Vintage Treasures: Four for Tomorrow by Roger Zelazny
Vintage Treasures: Four for Tomorrow by Roger Zelazny
If you'll allow me to wax nostalgic for a moment (I know, I know…. when do I do anything else?), I'd like to spend a moment fondly remembering an era when relatively unknown writers could make a huge splash with a mass market paperback collection.
Roger Zelazny's first collection Four for Tomorrow was published as a paperback original in March 1967 by Ace Books, with a rather uninspired (and very green) cover by Jack Gaughan. Now, Zelazny wasn't exactly an unknown writer in 1967 — the year before he'd published his first novel ..And Call Me Conrad, which tied with Frank Herbert's Dune for the Hugo Award for Best Novel, and his second, The Dream Master, an expansion of his Nebula Award-winning novella "He Who Shapes." In fact, it was a busy time for Zelazny — his novelette "The Doors of His Face, the Lamps of His Mouth" won the 1966 Nebula Award, and his groundbreaking Lord of Light, one of the finest SF novels ever written, won the 1968 Hugo Award.
It was Zelazny's time. And it's certainly no surprise that his slender 45-cent collection Four for Tomorrow, which collected four of his best-known longer works from his fledgling career, was a huge success. It was reprinted more than half a dozen times over the next 25 years, and is still fondly remembered.
[Click the images for tomorrow-sized versions.]
So it's a little bittersweet when I pick up a copy of Four for Tomorrow these days. It's a marvelous, career-defining book that introduced a major SF writer to a mass audience in a widely distributed, economically priced edition. And it's the kind of book that simply could never be published today.
1973 Ace edition (cover by Chris Foss)
Why couldn't it be published today? Modern audiences have lost the taste for short stories, and mass market collections simply don't sell. Collections still exist of course — but almost always in small print runs from small presses, and certainly not from brand new writers at the very start of their careers.
But markets change, for both good and ill, and (believe it or not) I'm not here to grouse about how good we had it in the old days. I'm here to tell you that Four for Tomorrow is a terrific collection of stories from a major writer who was still learning the extent of his abilities, and just starting to get major recognition. It includes two Hugo nominees and one Nebula Award Winner, "The Doors of His Face, the Lamps of His Mouth."
Here's the complete Table of Contents.
Introduction by Theodore Sturgeon
"The Furies" (Amazing Stories, June 1965)
"The Graveyard Heart" (Fantastic Stories of Imagination, March 1964)
"The Doors of His Face, the Lamps of His Mouth" (The Magazine of Fantasy and Science Fiction, March 1965) — Hugo nominee, Nebula winner
"A Rose for Ecclesiastes" (The Magazine of Fantasy and Science Fiction, November 1963) — Hugo nominee
While the art and design on the various editions varied widely over the years, I find it interesting that touting your Nebula win never seems to get old. It features prominently on all three editions after 1967.
1981 Ace edition (cover by Garland)
The 1991 Baen reprint — which appeared a decade after the last Ace edition, and nearly a quarter century after Four for Tomorrow was first published — featured what we'll call "Alternate facts."
It's good to see them tout 'Hugo Winner "A Rose for Ecclesiastes" on the cover, if only for a little variety. However, "A Rose for Ecclesiastes" didn't actually win the Hugo Award. It was nominated, but lost out to Poul Anderson's "No Truce With Kings."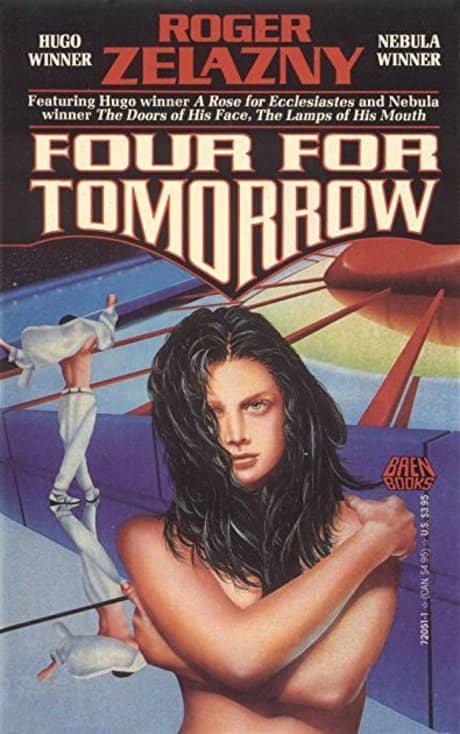 1991 Baen edition (cover by Debbie Hughes)
Well, we can forgive a little marketing exuberance.
The Bean edition was the last time Four for Tomorrow saw print, in any format. There is currently no digital edition. Fortunately, copies aren't hard to find. I bought the one up top as part of a handsome collection of vintage Ace paperbacks on eBay last month for $7 — or about 55 cents each.
And yes, I had all these books already. But c'mon. It was criminal that no one was bidding on this lot, and someone had to put the seller out of his misery.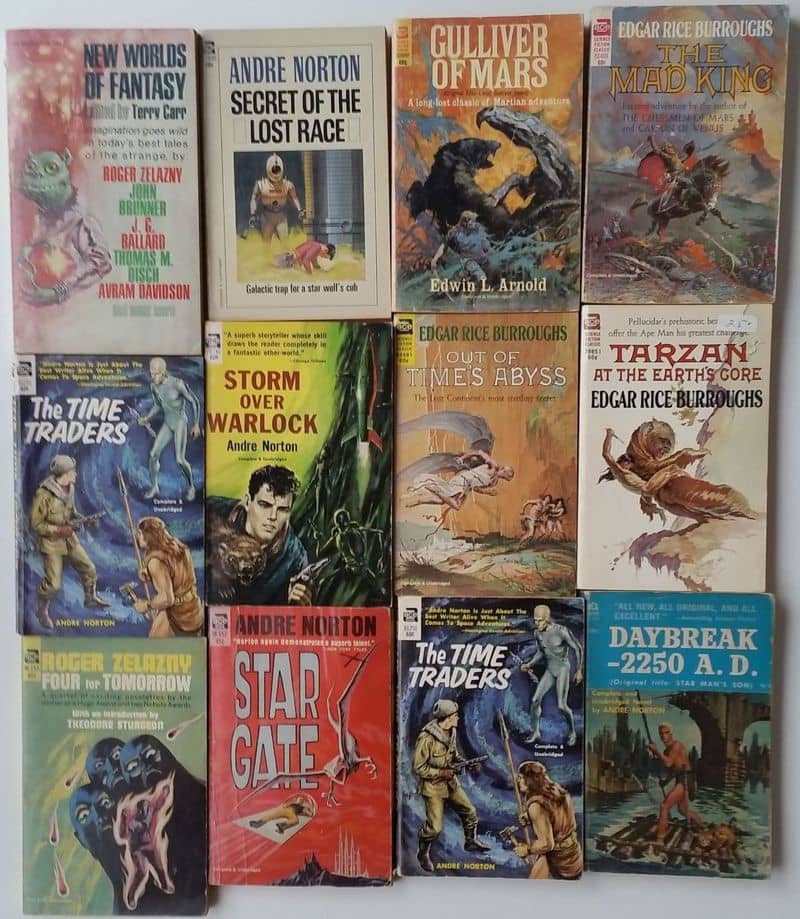 All this could have been yours. If you'd outbid me by 25 cents
Four for Tomorrow was published by Ace Books in March 1967. It is 191 pages, priced at 45 cents. The cover was by Jack Gaughan. It has been out of print since 1991, and there is no digital edition.
See all our recent Vintage Treasures here.