May/June Magazine of Fantasy & Science Fiction Now on Sale
May/June Magazine of Fantasy & Science Fiction Now on Sale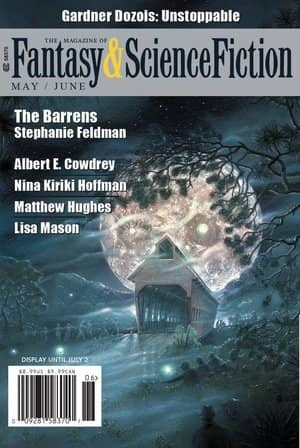 The big May/June issue of F&SF comes packed with stories by Gardner Dozois, Lisa Mason, Matthew Hughes (a new Argent and Sable tale), Albert E. Cowdrey, Black Gate writer Nina Kiriki Hoffman, and many others — all under a magnificent cover by Alan D. Clark illustrating "The Barrens" by Stephanie Feldman, featuring a group of high school students searching for a pirate radio station transmitting from the Pine Barrens of New Jersey, and the supernatural menaces they encounter on the way.
Victoria Silverwolf at Tangent Online calls the issue "an even balance of science fiction and fantasy… [with] a wide variety of imaginative literature." Here's a snippet of her review.
"Unstoppable" by Gardner Dozois concerns a prince obsessed with becoming the greatest warrior in the world. After murdering his way to the throne, he uses magic to become indestructible. It all leads to an ironic ending. This is an enjoyable tale, if hardly profound.

"Crash-Site" by Brian Trent takes place on a distant planet in the far future. Various characters are after a weapon recovered from a starship that crashed on the planet centuries ago. The main appeal of this science fiction adventure story is its technologically advanced setting.

Set in the 1920s or 1930s, "What You Pass For" by Melanie West involves magic white paint, which allows a man to give his fellow African-Americans the physical characteristics of Caucasians. He hates and fears his unwanted ability, and refuses to use it on himself, although this condemns him to a life of poverty. A dancer, forbidden to join a ballet company because of her race, demands the use of this power, even though she is already very light-skinned. This is a powerful story about appearances and reality.

"Ku'gbo" by Nigerian writer Dare Segun Falowo is a dense, complex fantasy with a plot difficult to summarize. Suffice to say that it takes place in an African village which is no ordinary community, and that it begins with a boy seeking to protect food from invisible rams. The many supernatural events and beings that fill the plot, and the author's fondness for metaphors, make this a story which must be read slowly and carefully to appreciate its uniqueness.

Set in modern New Orleans, "Behold the Child" by Albert E. Cowdrey depicts an unscrupulous lawyer who uses a telekinetic little boy to kill his enemies. A rival lawyer and a private detective, both telepathic, fight to end his reign of terror. The narrative tone is often light, contrasting oddly with the story's violence. The ending comes as an unpleasant surprise.
Read Victoria's complete review here.
Here's the complete Table of Contents of the May/June 2017 issue.
NOVELETS
"The Barrens" – Stephanie Feldman
"Inquisitive" – Pip Coen
"Argent and Sable" – Matthew Hughes
"Crash Site" – Brian Trent
"Behold the Child" – Albert E. Cowdrey
SHORT STORIES
"Tender Loving Plastics" – Amman Sabet
"The Bicycle Whisperer" – Lisa Mason
"Unstoppable" – Gardner Dozois
"What You Pass For" – Melanie West
"Ku'gbo" – Dare Segun Falowo
"The Properties of Shadow" – Nina Kiriki Hoffman
DEPARTMENTS
Books to Look For – Charles de Lint
Books – James Sallis
Plumage from Pegasus: Live By the Word, Die By the Word – Paul Di Filippo
Science: Asking Questions – Pat Murphy And Paul Doherty
Films: Downsizing To Little Too Late – Kathi Maio
Competition #95
Coming Attractions
"Curiosities" – Phoenix Alexander
CARTOONS
Kendra Allenby, Kendra Allenby, Kendra Allenby, Arthur Masear, Nick Downes
The Magazine of Fantasy and Science Fiction is edited by C.C. Finlay, and published by Gordon van Gelder. The cover price is $8.99, for a thick 258 pages. Check out the complete TOC and additional free content at the F&SF website.
This issue is on sale until July 2. We last covered F&SF with the November/December issue.
Our May Fantasy Magazine Rack is here, and all of our recent magazine coverage here.