Birthday Reviews: Gregory Frost's "Farewell, My Rocketeer"
Birthday Reviews: Gregory Frost's "Farewell, My Rocketeer"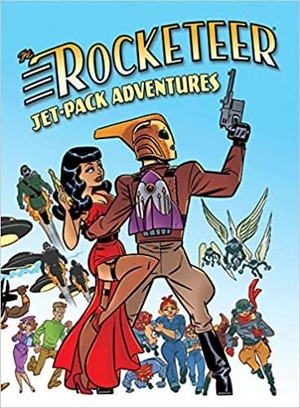 Gregory Frost was born on May 13, 1951.
Gregory Frost's novelette "Madonna of the Maquiladora" was nominated for the Hugo Award, the Nebula Award, the James Tiptree, Jr. Memorial Award, and the Theodore Sturgeon Memorial Award. Frost has also been nominated for the International Horror Guild Award and World Fantasy Award for his novel Fitcher's Brides. His Shadowbridge and Lord Tophet jointly were nominated for the Tiptree, and "How Meersh the Bedeviler Lost His Toes" was nominated for the Sturgeon. He also received a Bram Stoker nomination for the story "No Others Are Genuine." Several of his stories have been collected in Attack of the Jazz Giants and Other Stories, published by Golden Gryphon in 2011.
Cliff Secord's career as the Rocketeer, a 1930s style pulp hero who is a pilot in his daily life, but secretly has access to a jet pack, has been chronicled in a series of comics and one film. In 2014 several authors were invited to add to his legend with prose stories, one of whom, Gregory Frost, contributed "Farewell, My Rocketeer," a lost treasure story set in the American Southwest. The shared world anthology The Rocketeer Jet-Pack Adventures was edited by Jeff Conner and Tom Waltz. "Farewell, My Rocketeer" story has not been reprinted.
Secord gets involved in the treasure hunt when he lands at a small airstrip and diner which has been taken over by a disparate group of villains who are seeking gold based on an old treasure map. To save himself and the staff of the diner, who have been taken hostage, Secord agrees to pilot the group's plane to help them find the treasure after their pilot dies, even though he realizes his own usefulness to the villains will end as soon as he lands them back at the diner, theoretically with the gold.
Frost's adventure is reminiscent of The Treasure of the Sierra Madres and his villains each demonstrate their own motives in seeking the treasure, as well as their own plans for their new found wealth and ways to keep it from their erstwhile partners. Although there is never a real sense that Cliff is in any danger (he is the hero and has a rocket pack in the bag), the story is fun in the pulpy way that the best Rocketeer stories are.
Reviewed in its original publication in The Rocketeer Jet-Pack Adventures, edited by Jeff Conner and Tom Waltz, IDW 2014.
---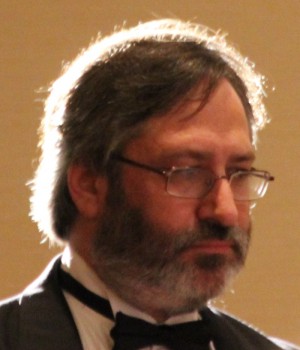 Steven H Silver is a sixteen-time Hugo Award nominee and was the publisher of the Hugo-nominated fanzine Argentus as well as the editor and publisher of ISFiC Press for 8 years. He has also edited books for DAW and NESFA Press. He began publishing short fiction in 2008 and his most recently published story is "Doing Business at Hodputt's Emporium" in Galaxy's Edge. Steven has chaired the first Midwest Construction, Windycon three times, and the SFWA Nebula Conference 5 times, as well as serving as the Event Coordinator for SFWA. He was programming chair for Chicon 2000 and Vice Chair of Chicon 7. He has been the news editor for SF Site since 2002.