Future Treasures: Quietus by Tristan Palmgren
Future Treasures: Quietus by Tristan Palmgren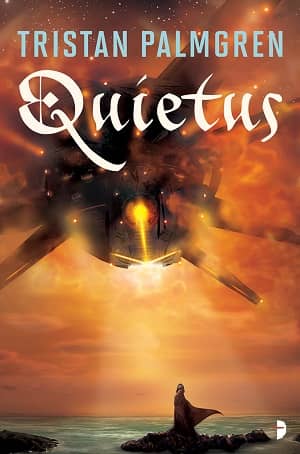 Tristan Palmgren is a Missouri writer; his ambitious debut novel Quietus arrives from Angry Robot next week. Una McCormack calls it "A truly outstanding debut… Palmgren takes the staples of science fiction – post-apocalypse, first contact, interventionism – and integrates them seamlessly, breathing new life into familiar forms." Here's the description.
A transdimensional anthropologist can't keep herself from interfering with Earth's darkest period of history in this brilliant science fiction debut

Niccolucio, a young Florentine Carthusian monk, leads a devout life until the Black Death kills all of his brothers, leaving him alone and filled with doubt. Habidah, an anthropologist from another universe racked by plague, is overwhelmed by the suffering. Unable to maintain her observer neutrality, she saves Niccolucio from the brink of death.

Habidah discovers that neither her home's plague nor her assignment on Niccolucio's world are as she's been led to believe. Suddenly the pair are drawn into a worlds-spanning conspiracy to topple an empire larger than the human imagination can contain.
As interesting as all that is, I'm more fascinated by this snippet from an interview with Palmgren at the Barnes & Noble Sci-Fi & Fantasy Blog:
Every time we read history, we change it. We bring our biases and myopias. If we're honest, we can be aware of them. (And if we're naive, we can convince ourselves that we've found all of them, or that being aware means we escaped them.)

Quietus embraces the observer. It's about the paradox of being an observer – the biases we bring to history, the urge to touch…. Every time we read history, we bring ourselves to it like we bring ourselves to everything else we read. Our perspective lurks between the lines. Quietus, as does other science fiction and fantasy about history, takes the observer out of the hidden space and into the text. We confront ourselves as observers, and see what we bring without intending to. And by using the freedom of fantasy to play with the facts of the past, I want to make that past feel like the present.
Quietus will be published by Angry Robot on March 6, 2018. It is 464 pages, priced at $12.99 in trade paperback and $9.99 for the digital version. The cover is by Dominic Harman. A sequel, Terminus, is already scheduled for November 6, 2018.