Birthday Reviews: Stephen Goldin's "The Last Ghost"
Birthday Reviews: Stephen Goldin's "The Last Ghost"
Cover by Gene Szafran
Stephen Goldin was born on February 28, 1947. Prior to becoming a science fiction author, Goldin earned a degree in astronomy and worked as a civilian space scientist for the US Navy.
Beginning in 1976, Goldin wrote the Family d'Alembert novels, based on a novella by E.E. "Doc" Smith. He followed that series up with the Parsina Saga and wrote the two volume Rehumanization of Jade Darcy series in collaboration with his second wife, Mary Mason.
He co-edited the anthology Protostars with David Gerrold and edited the anthology The Alien Condition solo. Goldin also collaborated with his first wife, Kathleen Sky, on both fiction and non-fiction. He received a Nebula nomination for his short story "The Last Ghost" in 1972.
"The Last Ghost" originally appeared in the 1971 anthology Protostars, edited by David Gerrold and Stephen Goldin. Lloyd Biggle, Jr. reprinted it in Nebula Award Stories Seven. Goldin included it in two of his collections, The Last Ghost and Other Stories and Ghosts, Girls, & Other Phantasms. It has been translated into French twice and German twice.
Goldin looks at a distant future in which immorality of a sort has been achieved by downloading people's consciousness into machines. His two characters, which he arbitrarily designates as male and female, have both been downloaded into a computer for several thousand years.
The male entity considers himself dead, a ghost whose purpose is to guide others to the electronic afterlife. The female character is trying to come to terms with the concept of an immortal, downloaded being actually dying, what it means for her and how it could possibly happen. Goldin is less concerned with her concerns and explaining the mechanisms, instead paying more attention to the ghost's inability to completely explain the situation and his attempts to figure out who he is and what he wants. The piece comes across as somewhat experimental, but without a lot of meat to it.
Reprint reviewed in the anthology Nebula Award Stories Seven, edited by Lloyd Biggle, Jr., Harrow Books, 1973.
---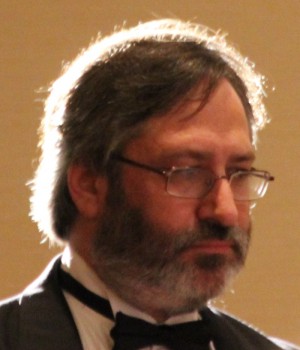 Steven H Silver is a fifteen-time Hugo Award nominee and was the publisher of the Hugo-nominated fanzine Argentus as well as the editor and publisher of ISFiC Press for 8 years. He has also edited books for DAW and NESFA Press. He began publishing short fiction in 2008 and his most recently published story is "Big White Men—Attack!" in Little Green Men—Attack! Steven has chaired the first Midwest Construction, Windycon three times, and the SFWA Nebula Conference 5 times, as well as serving as the Event Coordinator for SFWA. He was programming chair for Chicon 2000 and Vice Chair of Chicon 7. He has been the news editor for SF Site since 2002.