Future Treasures: Year One by Nora Roberts
Future Treasures: Year One by Nora Roberts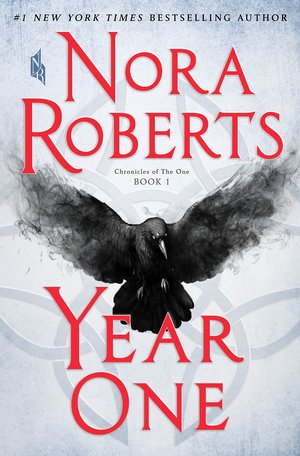 Nora Roberts is the #1 New York Times bestselling author of more than 200 novels. I want to repeat that for emphasis. Two. Hundred. Novels. That's not even including the many she's written under the pen name J. D. Robb, like the bestselling In Death series. Last year she placed #7 on Forbes list of Highest-Paid Authors (beating GRRM by 5 slots.) She has over 500 million books in print.
How can anything produced by a word factory like that be worth reading? Folks I trust tell me they really enjoy her novels and, let's face it, many of the pulp writers I adore churned out books in similar volume. It sounds to me like she's worth a try, and her upcoming post-apocalyptic fantasy Year One might be the place to start.
It began on New Year's Eve.

The sickness came on suddenly, and spread quickly. The fear spread even faster. Within weeks, everything people counted on began to fail them. The electrical grid sputtered; law and government collapsed ― and more than half of the world's population was decimated.

Where there had been order, there was now chaos. And as the power of science and technology receded, magick rose up in its place. Some of it is good, like the witchcraft worked by Lana Bingham, practicing in the loft apartment she shares with her lover, Max. Some of it is unimaginably evil, and it can lurk anywhere, around a corner, in fetid tunnels beneath the river ― or in the ones you know and love the most.

As word spreads that neither the immune nor the gifted are safe from the authorities who patrol the ravaged streets, and with nothing left to count on but each other, Lana and Max make their way out of a wrecked New York City. At the same time, other travelers are heading west too, into a new frontier. Chuck, a tech genius trying to hack his way through a world gone offline. Arlys, a journalist who has lost her audience but uses pen and paper to record the truth. Fred, her young colleague, possessed of burgeoning abilities and an optimism that seems out of place in this bleak landscape. And Rachel and Jonah, a resourceful doctor and a paramedic who fend off despair with their determination to keep a young mother and three infants in their care alive.
In a world of survivors where every stranger encountered could be either a savage or a savior, none of them knows exactly where they are heading, or why. But a purpose awaits them that will shape their lives and the lives of all those who remain.

The end has come. The beginning comes next.
A magic-filled post apocalyptic epic is a pretty big departure for Roberts, who's chiefly known as a romance writer — big enough that she felt the need to write a letter to her fans preparing them for the shift:
I continued to write category even as I expanded into writing mainstream novels, and produced 100 books for Silhouette before I turned off that road. With Bantam, then Putnam (which became Penguin-Putnam which became Penguin Random House), and now St. Martin's Press I wrote and continue to write Romantic Suspense, I wrote trilogies – straight relationship or with elements of fantasy and paranormal. I began the In Death series as JD Robb.

The In Death series certainly took me onto another lane of the highway. I thought of these as relationship mysteries/police procedurals with continuing characters set in the near future – which gave them a science fiction light touch…

I have to pay attention to that flick of light and turn down the road where it shines for me. And so, some time ago, that light flicked on a turn off the highway, a detour, an unexplored road… The flash of this light didn't beam on the Romance of my roots, or how my own work has evolved around it, and frankly, away from what the genre is today. It shined on something different, something I saw as more a Fantasy saga. Relationships, absolutely. Books and stories for me are all about the people in them, how they relate, or don't. Touches of romance, sure, but at least in the opening book, the story can't center on a central love story and hold for the rest.

I thought about it for quite awhile, played with it in my head, chewed on it, studied the concept from different angles. The light didn't dim, so I turned off and followed it.

Year One — the first of this different sort of trilogy — begins a journey, for me as a writer, for the characters within, and hopefully for the reader who wants to take a chance with me. It begins with a global crisis, a pandemic that wipes away much of the population and opens a door to magicks. Black and white, courage and cowardice, the determination to survive and rebuild, the evolution of powers for good or ill. And the light again, that's hope and love and bravery that shines through…
Year One, book one of Chronicles of the One, will be published by St. Martin's Press on December 5, 2017. It is 432 pages, priced at $27.99 in hardcover and $14.99 in digital formats.
See all of our recent coverage of the best upcoming fantasy here.