Future Treasures: The Wrong Stars by Tim Pratt
Future Treasures: The Wrong Stars by Tim Pratt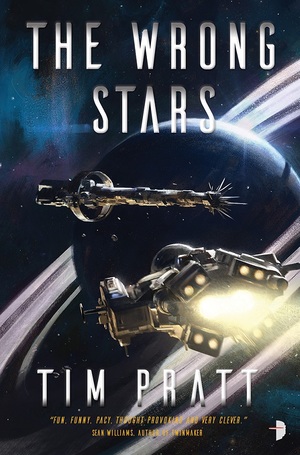 I've been reading a bit more space opera recently, and I welcome the recent resurgence of the sub-genre. Alien races, hardened crews, derelict spacecraft, ancient mysteries in space… how can you go wrong with a mix like that? Tim Pratt kicks off a new series next month with The Wrong Stars; it sounds like it has all the right ingredients.
A ragtag crew of humans and posthumans discover alien technology that could change the fate of humanity… or awaken an ancient evil and destroy all life in the galaxy.

The shady crew of the White Raven run freight and salvage at the fringes of our solar system. They discover the wreck of a centuries-old exploration vessel floating light years away from its intended destination and revive its sole occupant, who wakes with news of First Alien Contact. When the crew break it to her that humanity has alien allies already, she reveals that these are very different extra-terrestrials… and the gifts they bestowed on her could kill all humanity, or take it out to the most distant stars.
Tim Pratt has been nominated for the Nebula, World Fantasy, Sturgeon, Stoker, and Mythopoeic Awards, and won the Hugo Award for his short story "Impossible Dreams" (Asimov's SF, July 2006). His novels include The Strange Adventures of Rangergirl, and the Pathfinder Tales novels Liar's Island and Liar's Bargain. Several of his short stories have been adapted at Podcastle; C.S.E. Cooney reviewed two of them for us here ("HECK YEAH TIM PRATT!"). As T. A. Pratt, he's also the author of the 10-volume Marla Mason fantasy series (Blood Engines, Poison Sleep, etc.), the first four of which were published by Bantam Spectra; the remainder were self-published.
Of his new series, Angry Robot says:
We've signed Tim up for books two and three in the Axiom series! He'll never get away from us now; the chips are implanted too deeply in his cerebral cortex.
The Wrong Stars, Book One of the Axiom series, will be published by Angry Robot on November 7, 2017. It is 400 pages, priced at $7.99 in mass market paperback and $6.99 for the digital edition. The cover is by Paul Scott Canavan. Read the first chapter at SFF World.