Future Treasures: Pathfinder Tales: Liar's Bargain by Tim Pratt
Future Treasures: Pathfinder Tales: Liar's Bargain by Tim Pratt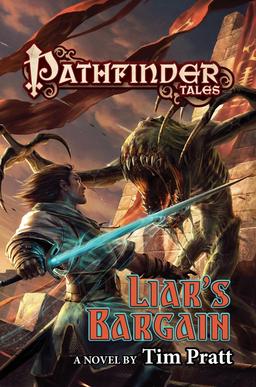 Tim Pratt is one of the most popular and prolific authors in the Pathfinder Tales stable. His first two tales of Rodrick the thief were Liar's Blade (called "Fafhrd-and-Grey-Mouser-style sword and sorcery adventure" by SF Signal) and Liar's Island. The third in the series sees Rodrick and his talking sword Hrym pressed into service for the crime of theft in Lastwall… service that leads to some pretty hazardous duty, all in the name of defending the innocent.
Who Are You Calling Expendable?

When caught stealing in the crusader nation of Lastwall, veteran con man Rodrick and his talking sword Hrym expect to weasel or fight their way out of punishment. Instead, they find themselves ensnared by powerful magic, and given a choice: serve the cause of justice as part of a covert team of similarly bound villains — or die horribly. Together with their criminal cohorts, Rodrick and Hrym settle in to their new job of defending the innocent, only to discover that being a secret government operative is even more dangerous than a life of crime.

From Hugo Award winner Tim Pratt comes a tale of reluctant heroes and plausible deniability, set in the award-winning world of the Pathfinder Roleplaying Game.
Our recent Pathfinder coverage includes free Soundclip samples from Macmillan Audio, a look at Liane Merciel's Pathfinder Tales: Hellknight, and Nick Ozment's popular piece on the Fellowship of the Pathfinders.
Pathfinder Tales: Liar's Bargain will be published by Tor Books on June 7, 2016. It is 288 pages (plus a 12-page preview of Starspawn by Wendy N. Wagner), priced at $14.99 in trade paperback and $9.99 for the digital version. The cover is by Raymond Swanland. See all our recent Pathfinder coverage here.