Black Gate Online Fiction: Tempus Unbound, by Janet Morris and Chris Morris
Black Gate Online Fiction: Tempus Unbound, by Janet Morris and Chris Morris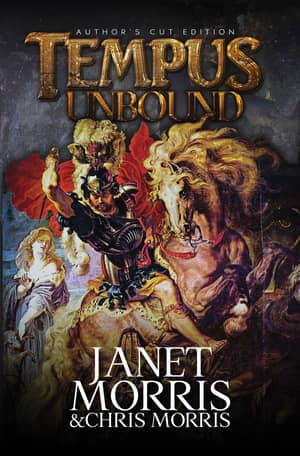 Black Gate is very pleased to offer our readers an exclusive excerpt from Tempus Unbound, the newest Sacred Band novel from Janet & Chris Morris. In this excerpt, Tempus is seeking his sister, Cime, and his quest leads him to the future, where he finds allies — volunteers to fight sorcery from different epochs as the storm god allows. Tempus has already recruited Mano, an ally from the 22nd century, and he and Mano find a most unlikely new adherent when the god deposits them in yet another time and place…
Here's the description.
Is this the Lemuria of antiquity, or of times to come? Once you've ridden the storm clouds of heaven from the edge of time, anything is possible.

Demonic hordes threaten to destroy the very fabric of time itself.

The fate of all humanity rests on the shoulders of Tempus the Black, Favorite of the Storm God. But even this hero of legend will encounter a challenge he has never faced before… present-day New York City.
Joe Bonadonna reviewed the book for Black Gate earlier this month, calling it "Epic in scope and concept… This is a fun novel to read, a great story that departs from the Sacred Band tales… It's one of my favorites."
The complete catalog of Black Gate Online Fiction, including stories by Mark Rigney, John Fultz, Jon Sprunk, Tara Cardinal and Alex Bledsoe, E.E. Knight, Vaughn Heppner,  Howard Andrew Jones, David Evan Harris, John C. Hocking, Michael Shea, Aaron Bradford Starr, Martha Wells, Nina Kiriki Hoffman, C.S.E. Cooney, and many others, is here.
Tempus Unbound was published by Perseid Press on June 11, 2017. It is 346 pages, priced at $26 in trade paperback and $8.99 for the digital edition.
Read an exclusive excerpt from Tempus Unbound here.