Vintage Treasures: The Strange Adventures of Rangergirl by Tim Pratt
Vintage Treasures: The Strange Adventures of Rangergirl by Tim Pratt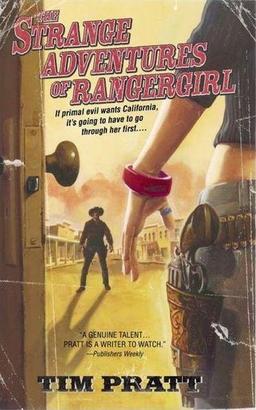 Tim Pratt has made a name for himself recently with a popular series of Pathfinder novels, including the tales of Rodrick the thief, Liar's Blade and Liar's Island. He also writes the Marla Mason fantasy series under the name T A Pratt. But before all that, he wrote the delightfully quirky The Strange Adventures of Rangergirl, his debut novel, a pseudo-weird western about a cartoonist with a hidden talent — and a sacred duty. It appeared in paperback from Bantam Spectra a decade ago, just long enough to make it today's "Vintage Treasure." It is still in print, and well worth a look for Pratt fans.
As night manager of Santa Cruz's quirkiest coffeehouse, Marzi McCarty makes a mean espresso, but her first love is making comics. Her claim to fame: The Strange Adventures of Rangergirl, a cowpunk neo-western yarn. Striding through an urban frontier peopled by Marzi's wild imagination, Rangergirl doles out her own brand of justice. But lately Marzi's imagination seems to be altering her reality. She's seeing the world through Rangergirl's eyes – literally — complete with her deadly nemesis, the Outlaw.

It all started when Marzi opened a hidden door in the coffeehouse storage room. There, imprisoned among the supplies, she saw the face of something unknown… and dangerous. And she unwittingly became its guard. But some primal darkness must've escaped, because Marzi hasn't been the same since. And neither have her customers, who are acting downright apocalyptic.

Now it's up to Marzi to stop this supervillainous superforce that's swaggered its way into her world. For Marzi, it's the showdown of her life. For Rangergirl, it's just another day…
The Strange Adventures of Rangergirl was published by Bantam Spectra on November 29, 2005. It is 402 pages, priced at $12 in trade paperback, and $9.99 for the digital edition. It is still in print. Read an excerpt here, and Tim Pratt's complete Rangergirl story "Bluebeard and the White Buffalo: A Rangergirl Yarn" online here.