A Healthy Dose of Old-fashioned Adventure: Kristen Britain's Green Rider Series
A Healthy Dose of Old-fashioned Adventure: Kristen Britain's Green Rider Series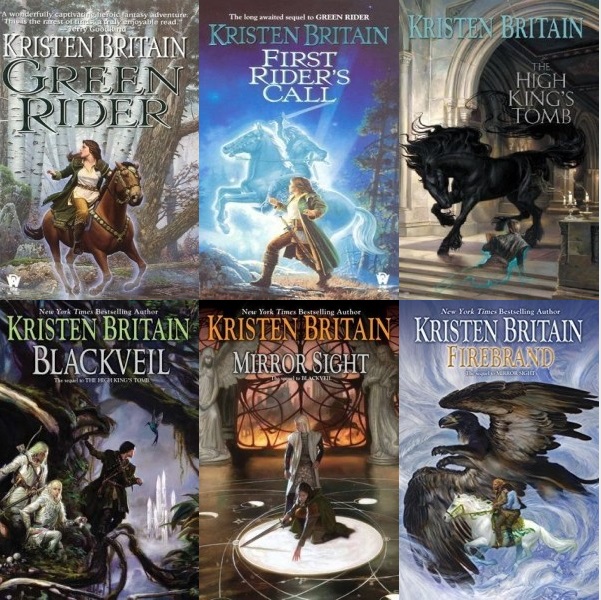 Successful fantasy novels evolve towards a series. That's like the fourth law of Thermodynamics. An expression of the natural order of the universe. Readers demand it; publishers are more than happy to accommodate, and authors…. well, what author can refuse her public?
Kristen Britain's debut novel Green Rider was very successful. It was only the second hardcover fantasy debut DAW ever published (the first was Tad Williams's Tailchaser's Song), and the extra effort paid off. I received a review copy while I was the editor at SF Site in 1998, and when I gave it to my niece Sabrina to get her opinion, her mother called to complain that she spent all her time in her room reading, and wouldn't come down for dinner. I wasn't at all surprised to see it become a New York Times bestseller, and kick off one of the first major fantasy series of the 21st Century.
Locus magazine, in their review of the third volume The High King's Tomb, captured much of the spirit of these books, which I think is core to their success.
The intermittent sense of foreboding is offset by a healthy dose of old-fashioned adventure — kidnappings, a noble thief, near drowning, divine visitations, ghosts, a visit to an upscale brothel, and some very bad knife throwing… with serious nastiness still looming.
Since 1998 there have been five additional volumes, and the sixth, Firebrand, arrived earlier this year in hardcover from DAW. Here's the complete details.
Green Rider (504 pages, $23.95 in hardcover, November 1998) — cover by Keith Parkinson
First Rider's Call (639 pages, $24.95 in hardcover, August 2003) — cover by Keith Parkinson
The High King's Tomb (679 pages, $25.95 in hardcover, November 6, 2007) — cover by Donato Giancola
Blackveil (664 pages, $25.95 in hardcover, February 2011 — cover by Donato Giancola
Mirror Sight (775 pages, $27.95 in hardcover, May 6, 2014) — cover by Donato Giancola
Firebrand (800 pages, $29 in hardcover, February 28, 2017) — cover by Donato Giancola
Need more evidence that this series is popular? All six volumes are still in print, nearly two decades after the first was released — ladies and gentlemen, that's a hit series. The first five are available in paperback, priced at $8.99 for both the print and digital editions.
Get more details at Kristen Britain's official website.
See all our recent coverage of the best fantasy series here.