Future Treasures: Mirror Sight by Kristen Britain
Future Treasures: Mirror Sight by Kristen Britain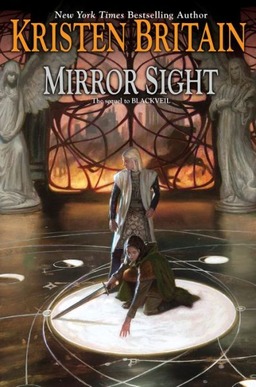 One of the most rewarding things about running a pair of fan sites for nearly two decades — starting with SF Site in 1996, and continuing with the BG blog in late 2000 — has been being on the scene when a major new talent debuts. Those are the books you remember: Patrick Rothfuss's The Name of the Wind, Steven Erikson's Gardens of the Moon, Martha Wells's 'The Element of Fire, Jeff VanderMeer's City of Saints and Madmen, James Enge's Blood of Ambrose, Scott Lynch's The Lies of Locke Lamora… and Kristen Britain's Green Rider.
Green Rider made a huge splash with my small staff when it arrived in April 2000. Even my sister-in-law called me to complain, because I'd handed my niece a copy and now she wouldn't budge from her room until she'd finished it. It was fast-paced, exciting, and everyone was asking me if there was going to be a sequel. (How the heck should I know?)
Well, there was a sequel — First Rider's Call, in 2004 — followed by The High King's Tomb (2008) and Blackveil (2012). And now the long-awaited fifth volume of one of the most popular fantasy series of the 21st Century is scheduled to arrive next month. My copy arrived this week and it looks fabulous.
Karigan G'ladheon is a Green Rider — a seasoned member of the elite messenger corps of King Zachary of Sacoridia. King Zachary sends Karigan and a contingent of Sacoridians beyond the edges of his nation, into the mysterious Blackveil Forest, which has been tainted with dark magic by a twisted immortal spirit named Mornhavon the Black.
At the end of Blackveil, in a magical confrontation against Mornhavon, Karigan is jolted out of Blackveil Forest and wakes in darkness. She's lying on smooth, cold stone, but as she reaches out, she realizes that the stone is not just beneath her, but above and around her as well. She's landed in a sealed stone sarcophagus, some unknown tomb, and the air is becoming thin.
Is this to be her end? If she escapes, where will she find herself? Is she still in the world she remembers, or has the magical explosion transported her somewhere completely different? To find out, she must first win free of her prison — before it becomes her grave. And should she succeed, will she be walking straight into a trap created by Mornhavon himself?
Mirror Sight will be published by DAW Books on May 6th. It is 775 pages, priced at $27.95 in hardcover and $11.99 for the digital edition. The cover is by Donato Giancola.