A Babe in the Woods: Derek's Literary Adventures in New York
A Babe in the Woods: Derek's Literary Adventures in New York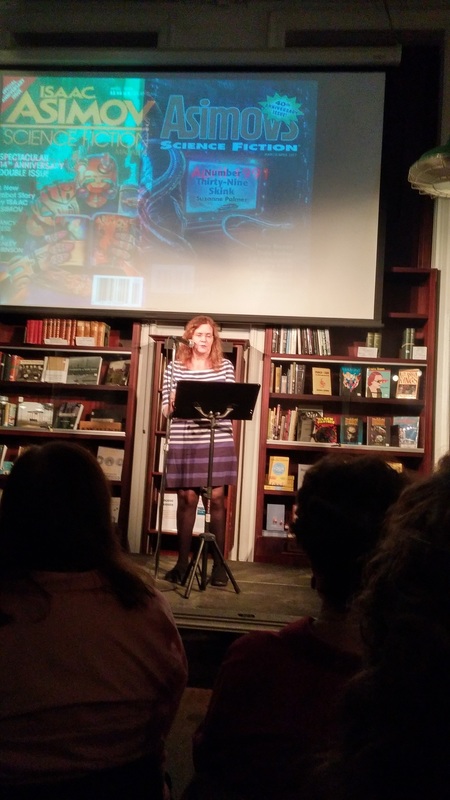 Sheila Williams speaking at Asimov's
40th Anniversary Celebration in Manhattan
For those of you who don't know, Asimov's Science Fiction Magazine turns 40 years old this spring, and a celebration was held at a New York book store. Asimov's invited its writers and I finally, finally used this as my excuse to visit New York!
I've traveled lots of other places, but I've never been to the home of Spider-Man,  Dr. Strange, Saturday Night Live, and *all* the crime shows ever!
Like a lot of non-Americans, I've also been hesitant to cross the border more recently, in part because I have friends who might not be able to do so anymore, and in part because I wasn't sure how I'd be treated.
[Click the images for bigger versions.]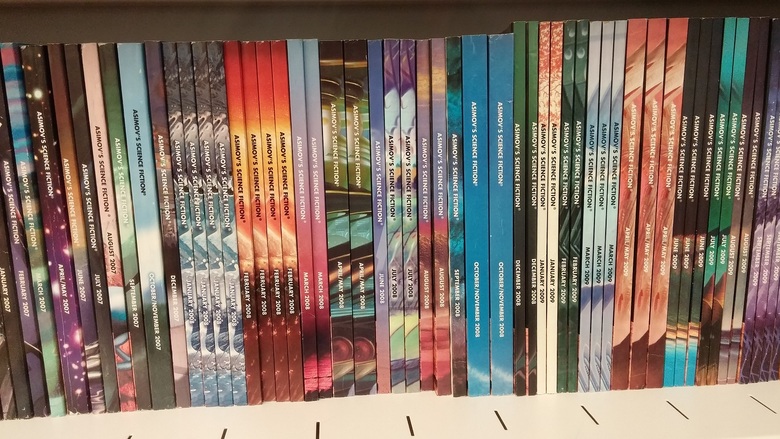 Shelves and shelves and shelves of Asimov's, Analog,
and Astounding (from 1930!) at the Dell Magazine Offices
But on Monday, I took the Amtrak from Gare Centrale in Montréal. Unlike all my other smooth crossings of the border, I was asked much more pointed questions by border staff and they even asked me if I had a visa to write for Asimov's.
When the immigration portion was done, one border officer started yanking pieces of the train paneling out and shining a flash light into the innards of the wall.
Then, all of us were moved without our stuff to another car while drug dogs sniffed that car, then us. In short, this is kind of what I expected and took a little under 2 hours.
My Airbnb was pretty good — 3 blocks off Central Park on the Upper West Side, but I was a little disappointed I wasn't going to see any of the crime that is always being advertised on TV.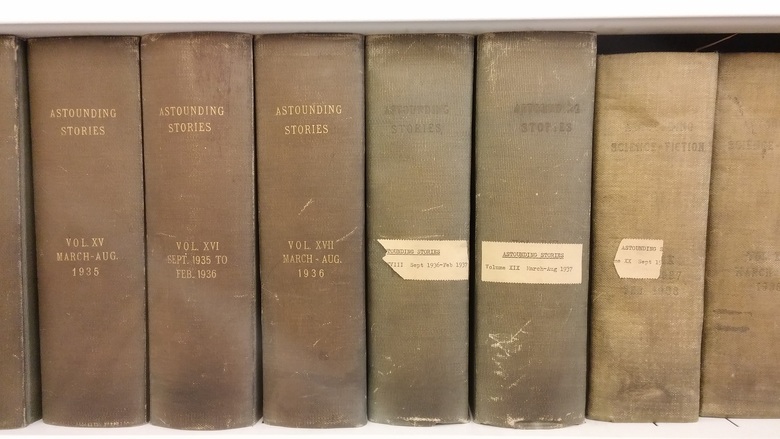 1930s Astounding Stories at the Dell Magazine Offices
Don't worry! It just arrived late.
At 3:30am I heard a huge crash of glass and screaming upstairs. It sounded to me like somebody walked in on their significant other, and somebody else. Much yelling followed, somebody was screaming in the hallway, and then the other person in my Airbnb went out and called an ambulance. The lights flashed in my window while someone got bandaged. In the morning I didn't get lost because there was a blood trail down the stairs all the way to the door.
So my border expectations and crime expectations were met in less than 24 hours! I am a very efficient traveler.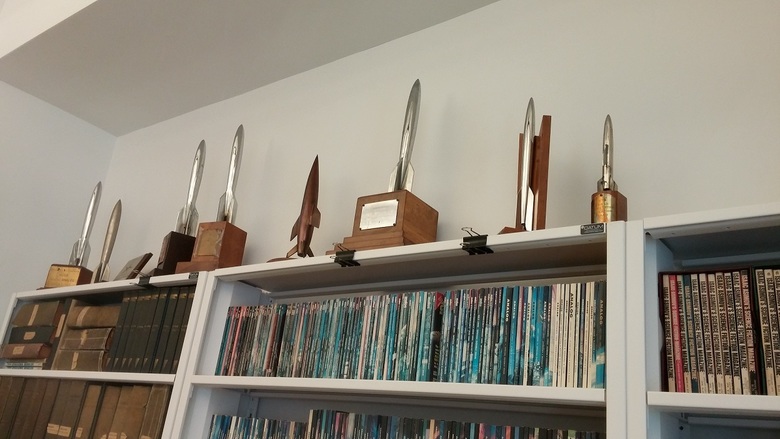 A flock of Hugos
To keep up the efficiency, I subwayed straight down to Wall Street. I admired the buildings, smelled the amazing street food, and then went to the 9th floor of 44 Wall Street to visit with Sheila Williams of Asimov's, Trevor Quachri of Analog, and Emily Hockaday, who swore that crime isn't normally like that. I'm half-suspecting that Emily says that to all the foreign writers who visit so we'll be surprised when it happens again.
I went out for lunch with Trevor and Sheila and then met a writer friend who walked me all along the Highline, which in ancient times was a raised footpath for people to use when the trains were broken. Beautiful views! 26°C! Primordial blisters!
A Best Magazine Hugo from the 11th WorldCon in 1953.
I put my thumb print on it, but so did Sarah and Rick
At 5:30, I was supposed to meet Sam Morgan, an agent friend. He suggested a little bar that you had to use a buzzer to get into. Very cool, I thought. Just like TV and comics. I felt very exclusive.
But I passed the door 4 times, overshooting by a block each time before I realized that the place had no sign. I finally figured it out and got in when I just looked for the number. I'm glad no one saw me messing that up, because literarilly speaking, I should have missed it twice and gotten in on the third try.
It was a nice bar, quaint, super-dark, with stuffed chairs. The waitresses were setting up so I sat in one of the comfy chairs. After ten minutes, a waitress came over and asked me if I was with the band.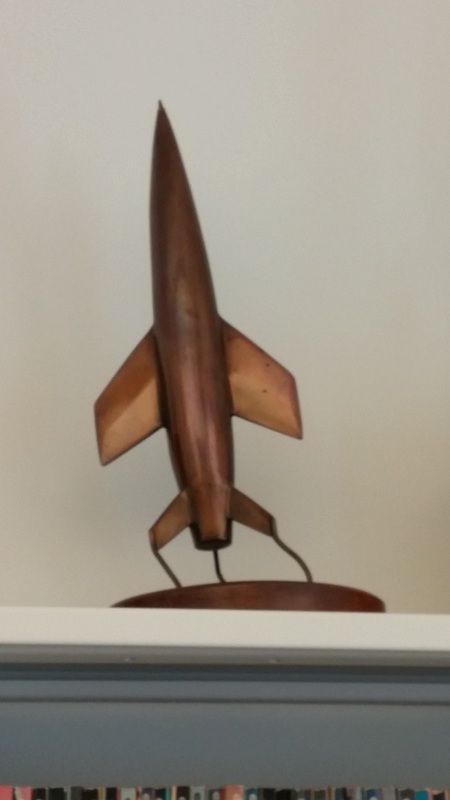 The leaning Hugo of LonCon 1
This is the Call to Adventure in the Hero's Journey. Luckily, because I'm a writer, I know I'm supposed to refuse the first call.
So she told me that there was a private function that evening and they were waiting for the band. So, I left, realizing that even greater adventure was just around the corner.
Sam found me and took me to a different bar. I suppose Sam is the Obi Wan in this narrative, and he has a beard. Also, he got me beer and nachos, which I'm pretty sure is what Ben got Luke in Mos Eisley.
The next day, I met Sam Miller, writer extraordinaire, and Sarah Pinsker, writer and musician extraordinaire, for lunch in Chelsea. It then occurred to me that maybe Sarah should have gone into that tiny private bar last night and answered yes — that would have started her adventure. But I didn't mention it, because they had a double burger with bacon on the menu.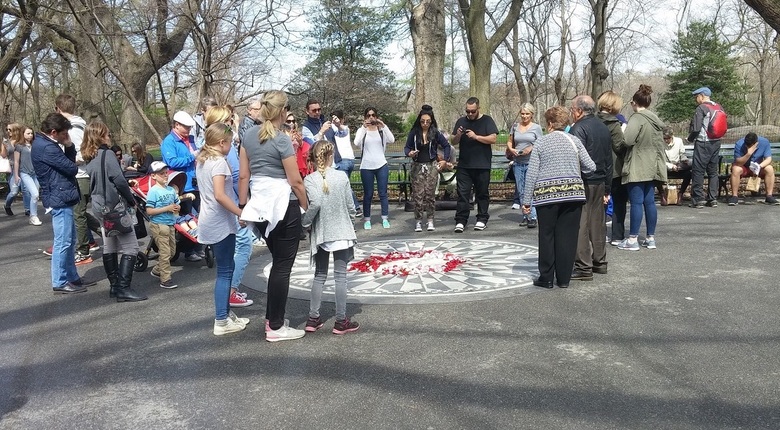 Lennon's tomb
After lunch, Sarah and I walked through Central Park from the lower left along the middle to the middle left. (Look at a map — you'll see what I mean.)
We saw trees, people playing baseball, some ponds and lakes, bikes all over the place, Lennon's tomb, the Ghost Buster Building, the Night at the Museum Building, and places where they filmed romantic comedies.
In this part of my journey, I think Sarah is Han Solo. And we ran into writer Matthew Kressel in the park (The Kressel Run?).
I wasn't very surprised we found him, because I was on a hero's journey and things like this are supposed to happen, but Sarah and Matthew made a big deal of it for my sake, saying that they *never* run into friends in New York like that. It worked. I felt my adventure was taking appropriate twists and turns.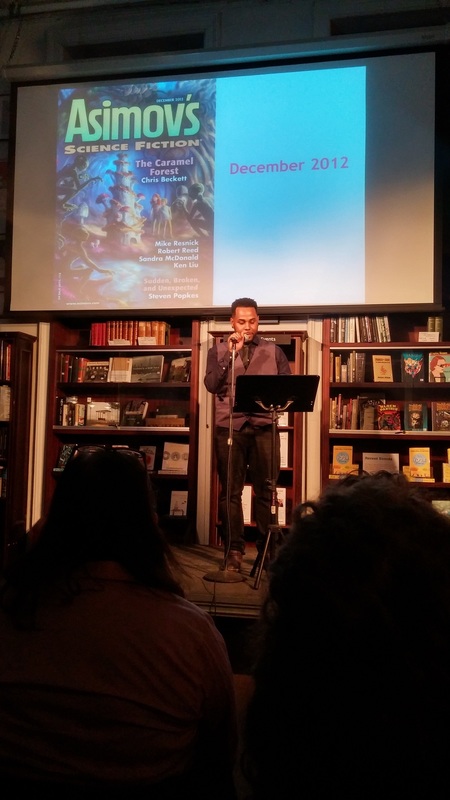 Asimov's writer Cadwell Turnbull reading
Two days of walking in the sun was taking its toll (this is the hero's ordeal), so I went back to my Airbnb and grabbed some Chinese food.
On Thursday, I took the subway to Brooklyn. I was landmarking by assuming that I would know when to get off when I saw us crossing whatever river it is that circles the island (the Potomac, I think; also, my friends from Kansas and Missouri told me not to refer to Manhattan as an island), but the subway never came up for air.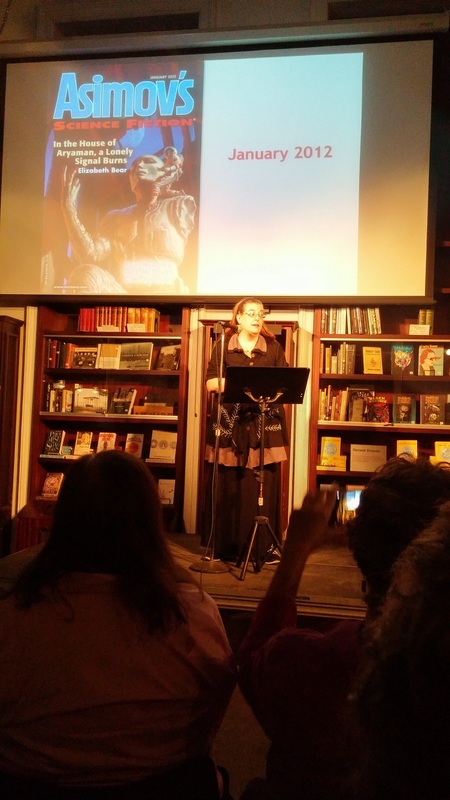 Asimov's writer Suzanne Palmer reading
So I missed my stop and had to use my phone like a tricorder to find my way to my excellent agent, Kim-Mei Kirtland. This portion of my trip seems to be that part when Luke is under the water but is released. Brush with death, I think.
Kim-Mei treated me to breakfast. We discussed business and writing and then I got to see the offices of the Morhaim Agency. They are super cool, and as I pointed out to Kim-Mei, they look a lot like the pictures on their website.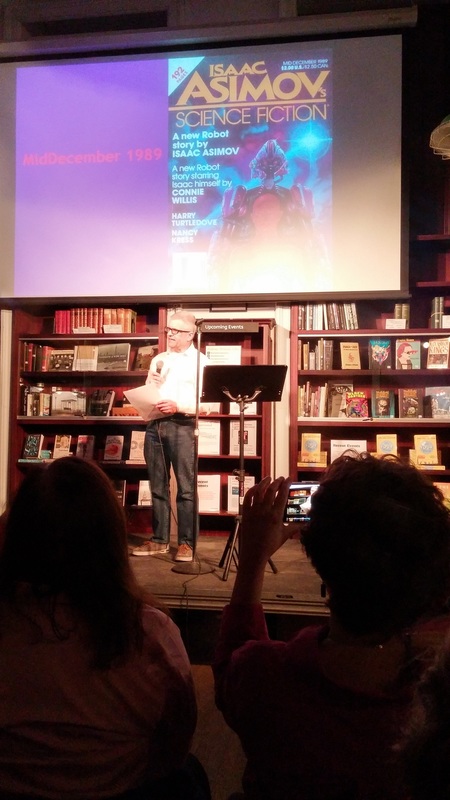 Asimov's writer Alex Jablokov
I then rushed to Union Square (which I'm guessing is named after the New York side of the civil war, or after the city in New Jersey) to meet another writer friend for lunch. We talked books and comics and careers and I ate Pad Thai.
After that, it was back to Wall Street for me, because the Asimov's offices were hosting an open house for the visiting writers. I saw Sarah Pinsker again, as well as fellow Canadian Rich Larson, Floridian Rick Wilbur, New Englander James Patrick Kelly, and writers I hadn't met before like Alex Jablokov, Andrea Powley, and Suzanne Palmer.
There were various changes of groups (like the attack on the Death Star with all the ships flying in different directions) and Sarah, Alex, Andrea ended up questing after a Punjabi restaurant Sam Miller had suggested. Sarah did excellent navigating.
The food was great, and even better, there was a gelato place across the street. That allowed me to check off a bucket list item which was to get a 3-scoop ice cream cone. I felt like a muppet from Sesame Street with my giant ice cream. Sarah took a picture of me with a triple gelato.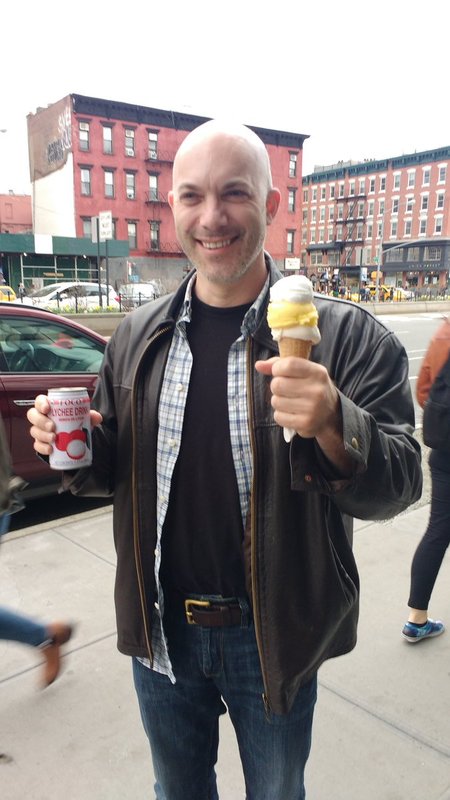 The author with a bucket list item.
Photo by Sarah Pinsker
The readings were great and the celebration was huge!
The book store had planned for 150 people and every seat was taken and people were still standing. Afterwards, we drifted to a couple of different bars, but like all fairy tales, I had to turn into a pumpkin by midnight so I made it back to my Airbnb just in time.
I liked New York. It was a bit big, but not hard to get around. Train and airbnb made it not too expensive, and there are many more writer friends whom I'd like to see, and possibly New York Comic Con, so I suspect I'll be back.
---
Derek Künsken writes science fiction and fantasy in Gatineau, Québec. He has lots of publishing news he can't talk about, so follow him @derekkunsken, where it will surely be announced. He was recently interviewed on the Writer's Tool Belt podcast, where he nixed the idea of getting a cat. Have a listen!