Nightmare, Issue 52 (January 2017)
Nightmare, Issue 52 (January 2017)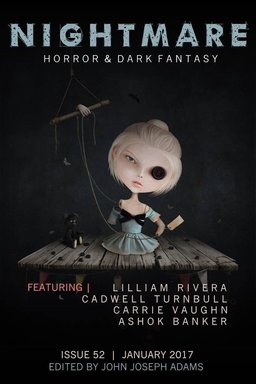 The first Nightmare issue of 2017 opens with a cover by Adobe Stock artist annamei titled, "Conceptual illustration of broken doll with buttons." Sadly, no creepy dolls in this issue, but there are plenty of other staples of the horror genre on display.
It starts with "Loneliness Is in Your Blood" by Cadwell Turnbull, a different sort of vampire tale. The author not only twists expectations by choosing a non-European vampire legend as a springboard, but also uses a second person perspective with surprising effectiveness.
The subverted expectations continue with "The H8TE" by Lilliam Rivera. While she borrows lightly from the zombie tropes that we all know by heart, the story speaks much more to the fears of children of addicts than the fears about the apocalypse. My favorite zombie stories (of which there are precious few) have been the ones that show how society would likely continue to function just fine if the dead began to walk, essentially showing off how we can accustom ourselves to any horrible situation.
Passing into the second half of the issue, we have "Redcap" by Carrie Vaughn, which initially comes off as another of those dark fairy tale stories that you've already read a hundred times. But as it progresses, you realize that the author is talking about more than mythic symbols of puberty or some other college thesis fodder. "Redcap" is a horror story that directly discusses the nature of horror and, in a roundabout way, why we read horror stories or watch horror movies in the first place.
"Redcap" sets a pretty high bar for this issue, and yet the editors save the best for last with "Blood Mangoes" by Ashok Banker. Set in a dystopian environment that just happens to be a real place that exists in the modern world, "Blood Mangoes" follows the old-school horror formula of "being careful what you wish for" to a resolution that will satisfy both gross-out horror fans and admirers of the quiet horror style. A tough balance that's pulled off beautifully.
If you want to check out this issue, head to www.nightmare-magazine.com/issues/jan-2017-issue-52. And while you CAN read all of these stories online for free, these magazines only survive with financial support. So why not drop $2.99 for the issue and ensure that this amazing series continues for years to come?
See more detail on the issue here. We last covered Nightmare with issue 51.