Alfred Hitchcock Mystery Magazine, Volume 62, Issues 1/2 (January/February 2017)
Alfred Hitchcock Mystery Magazine, Volume 62, Issues 1/2 (January/February 2017)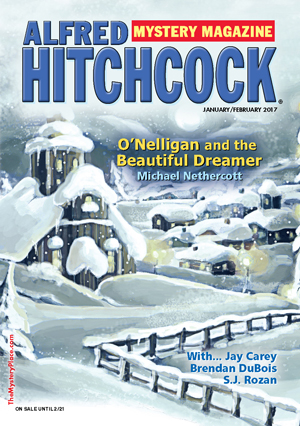 So this issue marks the beginning of a new publication schedule for the Alfred Hitchcock Mystery Magazine, as it switches to a completely bi-monthly schedule (as opposed to mostly monthly with a couple double-sized issues). But don't fret; the page count in each issue has been doubled, meaning that you'll still be getting the same number of pages per year, just delivered less often.
The snowy scene on the cover, courtesy Aga Es, clues us in that this is the winter issue. Of course, only two of the stories within reference winter in any way (and one of them is a bit of cheat, but more on that when we get there), but it's still a nice dozen stories to keep you entertained on a snowy night.
We start with "Chin Yong-Yun Stays at Home" by S.J. Rozan, which is a wonderful opener for any fans of Nero Wolfe and other armchair detectives. While this is probably my favorite story of the dozen, don't quit reading with this one.
"Christmas 1953" by Dennis McFadden is the first of two stories with a winter theme and is probably the most difficult to follow of all the selections in this issue. Of course, this is to be expected as it deals with traumatic memories and how they alter our perception of the present.
"Futures Off at Closing" by John H. Dirckx is a mystery that benefits from having a quirky detective with a unique perspective. As with so many quirky detective stories, the satisfaction comes from following the protagonist's thought process more than actually trying to work out the puzzle.
"The Hawaii Murder Case" by Terence Faherty puts a nice twist on the sometimes implausible amateur sleuth scenario. In this one, the sleuth is an avid reader of mystery novels who, after suffering a head injury, comes to believe that he is the brilliant detective in the novel he was reading. This casts the whole story in doubt, as we don't know until the end if there's a genuine mystery or if the "detective" is simply delusional.
"Resolutions" by R.T. Lawton is less of a mystery and more of a caper-gone-wrong story that provides some wonderful character-based humor.
"O'Nelligan and the Beautiful Dreamer" by Michael Nethercott delves just slightly into the supernatural, as two private investigators are hired by the beautiful dreamer of the title to investigate a murder before it's committed. The only clues their client has to offer (or indeed, the only proof she has that a crime is going to be committed) come from a vague dream in which one of three people is revealed as a possible killer. It's a nice whodunnit setup that doubles as a race to not only discover the killer, but also stop them before the murder is committed.
"Winter's Journey" by Richard J. Koreto is the second winter mention in the issue and, like I said, it's a bit of cheat. The story isn't set in wintertime, but rather concerns the adventures of Captain Edmund Winter, a government messenger working in an unspecified year, who kills several highwaymen while carrying out his duties. What at first seems to be a story about the red tape that even a professional adventurer has to endure slowly stands revealed as a subtle mystery tale.
"Alice Stockbridge" by Jim Ingraham follows a traditional "missing person" plotline down some twists and turns towards a surprising yet satisfying conclusion.
"We are Trapped at the Morgue" by Jay Carey has an even more chilling premise than the title suggests as the setting is a mildly dystopian 2048.
"Random Nature" by Brendan DuBois starts with a nice set-up of a murder at a city dump being ruled an accident, only to have that ruling called into question when uncovered video footage reveals new evidence. The private investigator in this one is a likable character, but I don't know that the resolution was really "fair play."
"The Papergirl" by Dashielle Crowe follows the adventures of a girl delivering newspapers for her injured paperboy brother in the 1950s (when girls were not allowed to deliver newspapers). It's a nice period piece, but the "mystery" appears wedged in at the tail end and, honestly, had no clues set up so much as simply a shock reveal.
"Pierre Chambrum and the Black Days" by Hugh Pentecost is a reprint that originally appeared in Ellery Queen Mystery Magazine in 1968. It concerns a mystery-riddled hotel and a missing assistant. There are really two mysteries (the abduction of the assistant and a murder) that both get introduced and then resolved rather hastily with a minimum of clues or build-up. On the other hand, the Hotel Beaumont and its offbeat manager are odd enough that I would definitely be interested in reading more stories about them.
The issue wraps up with the two winners from writing contests presented in earlier issues. "This Could Work" by Trina Giffin details a slow-burn revenge (which is quite a feat at less than 250 words). "Dark Passage" by Tim Hodge is the sort of "ironic punishment" story that one used to find in old 1950s EC Comics and is quite satisfying.
Alfred Hitchcock Mystery Magazine will now come out every two months. If you want to support one of the last professional mystery magazines available on the market, check out themysteryplace.com/ahmm/.