The Classic You Never Heard of: The 13½ Lives of Captain Bluebear
The Classic You Never Heard of: The 13½ Lives of Captain Bluebear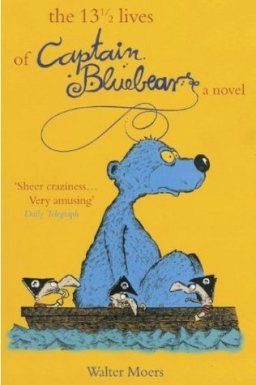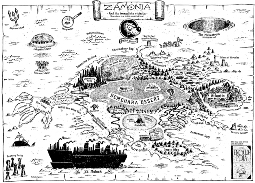 The 13½ Lives of Captain Bluebear by Walter Moers is… nuts.
Think "Hitchhiker's Guide to the Galaxy does Adventure Time with a dash of Moomins" and you would be on the way there.
It's definitely a book for all ages. I read it in my 30s, before I became a dad. More than a decade later I'm reading it to my 9-year-old daughter.
It's one of those rich works of the imagination that is somehow both compelling and a comfort read. Fairy story and fantasy adventure. Satire and parable. Tall tale and… met tall tale — there's even a duel of lies!
It's the autobiography of one Bluebear — a sentient blue bear (duh) and perhaps last of his kind. It recounts his wanderings in Zamonia, a fantasy continent replete with baroque perils and wild adventure — capital Atlantis (naturally) — that seems have a loose place and not entirely linear relationship to the history of our world.
Enlivening and illuminating his adventures are bonkers excerpts from Professor Abdullah Nightingale's  "The Encyclopedia of Marvels, Life Forms and Other Phenomena of Zamonia and its Environs."
The story kicks off with Bluebear's first memory: floating in a walnut shell and then being rescued by Minipirates —
However, much of the pleasure and narrative drive comes from the unfolding of the weird world of Zamonia with oddities such as its clan of pterodactyl Roving Reptilian Rescuers — who only effect rescues at the most dramatic and thus last possible moment — lying Troglotrolls — and titanic Bollogs who are so stupid they sometimes literally lose their own heads.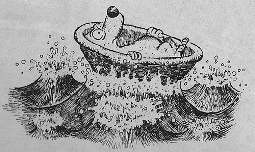 It really is one of those rambling picaresque edifices in the tradition of Mandeville's Travels or early Edgar Rice Burroughs.
I can't really tell you more without spoiling the experience.
So I won't.
Our previous coverage of Walter Moers includes:
---
M Harold Page is the Scottish author of  Swords vs Tanks (Charles Stross: "Holy ****!"), in which an armoured invasion from the future raises complex political and social issues, which are resolved through the medium of lovingly narrated interpersonal violence, high sorcery, and transgressive… um… bodice ripping.