New Treasures: The City of Dreaming Books by Walter Moers
New Treasures: The City of Dreaming Books by Walter Moers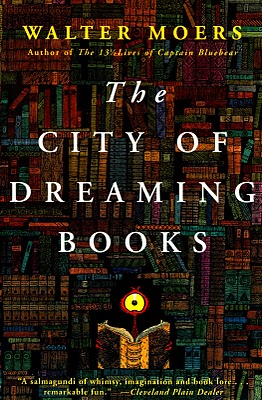 Walter Moers got my attention with his first novel in English, The 13½ Lives of Captain Bluebear, which relates adventures of human-sized bear with blue fur on the fictional continent of Zamonia.
Okay, I know how that sounds. But Moers, who's also a cartoonist and painter, brings cartoon sensibilities to the page with consummate skill, and his whimsical tales of Zamonia have captured hearts and minds around the world. The 13½ Lives was followed by Rumo, A Wild Ride Through the Night, and The Sorcerer's Apprentice.
The City of Dreaming Books sounds like his most intriguing title yet, featuring a city-sized library filled with secrets, haunted by the mysterious Shadow King…
Optimus Yarnspinner has inherited from his godfather an unpublished manuscript by an unknown writer. He sets off to track down the mysterious author, who disappeared into Bookholm — the so-called "City of Dreaming Books." Yarnspinner falls under the spell of this book-obsessed metropolis, where an avid reader and budding author can find any number of charming attractions — priceless signed first editions, salivating literary agents, and for-hire critics. But as Yarnspinner pursues the trail of the missing author, the darker side of Bookholm begins to unveil itself — cold-blooded book hunters, fearsome cyclopean booklings, sharp-toothed animotomes, and of course, the Shadow King, whose howls rise from deep beneath the city at night. Will Yarnspinner survive his quest into this world where reading is a genuine adventure?
Like most of his books, this one features a cover by Moers, and numerous black & white illusrations throughout. Moers' art is as charming as it is unique, equal parts Virgil Finlay and Dr. Seuss.
I found the brand new sequel, The Labyrinth of Dreaming Book, in the Dealer's room at Windycon last week for the first time. That means it's time for me to stop dithering and finally read this one.
The City of Dreaming Books was published by Overlook Press in 2008. It is 462 pages, priced at $17.95 in trade paperback at $11.99 for the digital edition. It was translated from the German by John Brownjohn.