Read an Original Short Story in the World of The Lazarus Gate and The Iscariot Sanction at the Barnes & Noble Sci-Fi Blog
Read an Original Short Story in the World of The Lazarus Gate and The Iscariot Sanction at the Barnes & Noble Sci-Fi Blog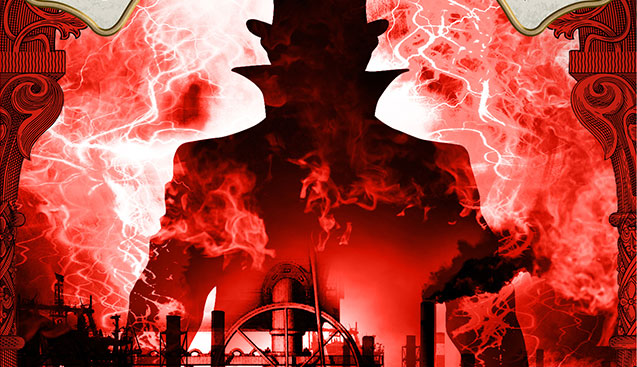 Mark Latham's new novel in The Apollonian Case Files, The Iscariot Sanction, was published by Titan Books on September 20. It's the follow-up to The Lazarus Gate and, in honor of the occasion, the popular Sci-Fi and Fantasy Blog at BarnesandNoble.com has posted a brand new story set in the same world, "The House of the Dead."
Mark Latham's two novels of The Apollonian Case Files, The Lazarus Gate and The Iscariot Sanction, take place in an alternate Victorian Age in which Her Majesty's Empire is under attack by supernatural threats, and only a mystery "gentlemen's club" stands in the way of total oblivion. They're great fun, mixing elements of Sherlock Holmes and H.P. Lovecraft, James Bond and H.G. Wells, with a setting we love spending time in — which is why, in honor of the release of the latest in the series, we're pleased to present an original short story set in the same universe. Enjoy!
Read the complete story here.
The Lazarus Gate was published by Titan in September of last year, and Rising Shadow called it "An incredibly fresh story." The covers for both books were designed by the talented Julia Lloyd.
At his blog The Lost Victorian, Latham shared the following book description:
In an alternate reality, the world is in peril. The sky burns with a supernatural fire, demonic entities run amok in the streets, and in the north of England, sinister beings plot to claim a part of the Empire for their own. Young Apollo Lycea agent Lillian Hardwick, and her Majestic partner Sir Arthur Furnival, are sent to expose this plot. To complete their mission they must overcome foes both mundane and supernatural, uncover a Royal conspiracy, and unlock the secret of the Iscariot Sanction. And yet what they find in the industrial cities and windswept moors of the north is a danger unlike anything they have faced before; a threat that will leave them — and the Empire — changed forever.
And said this about the book:
As you may guess from that blurb, this is not a direct sequel to The Lazarus Gate (that is coming, believe me), but rather a prequel, which rounds off the stories of all our principal players. This is a tale of the Otherside, and it's the most action-packed and visceral story I've ever told — that red cover is no accident. There will be blood…
We previously covered The Lazarus Gate here.
See all our recent book coverage here.