Old Dark House Double Feature IV: Two Haunted Honeymoons
Old Dark House Double Feature IV: Two Haunted Honeymoons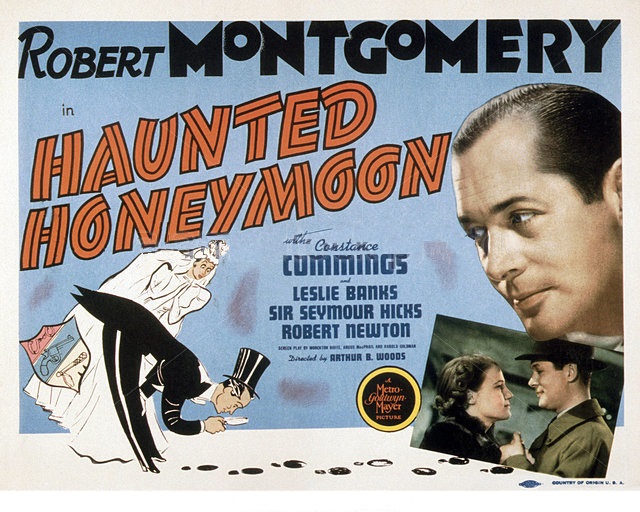 For this Old Dark House Double Feature I've chosen two films that are unrelated except for the fact that they share a title — Haunted Honeymoon. You might rightly make the argument that the earlier of these movies is more of a standard whodunit than an old dark house movie, but the coincidence was too good for me to pass up.
Haunted Honeymoon
Metro-Goldwyn-Mayer (1940)
Directed by Arthur B. Woods
Screenplay by Monckton Hoffe, Angus MacPhail, and Harold Goldman
Starring Robert Montgomery and Constance Cummings
Dorothy Sayers isn't really a household name nowadays but she was a rather well-known mystery writer during the so-called Golden Age of mysteries, which lasted for a few decades, starting more or less in the Twenties. Busman's Honeymoon, the source for this movie, first saw the light of day as a play, in 1936. A year later Sayers converted it to a novel and a few years after that it made its way to the big screen. Over on this side of Atlantic the movie was given the name Haunted Honeymoon, since few of us Yanks probably known what a busman's holiday is (a holiday where you spend doing the same kind of thing that you usually do for your job, says Merriam-Webster).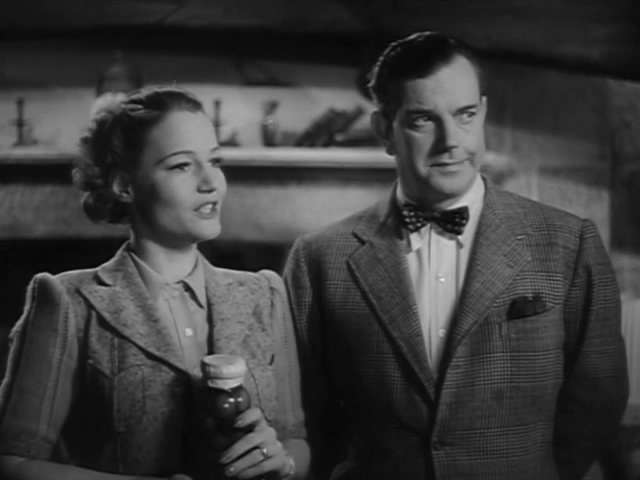 The gimmick's a pretty simple one. British Lord Peter Wimsey, Sayers' recurring detective character, is played here by Manhattan-born actor Robert Montgomery, curiously enough. He and his fiancée, Harriet Vane, a mystery writer, decide to swear off all of the detective and whodunit stuff for a while and focus on honeymooning. Said event takes place in the small town cottage where Vane grew up, a cottage that the well-heeled Wimsey bought for her. Of course, the two keep their promise to not get involved in crime solving and thus the movie ends with little fanfare.
Oh, but I jest. Of course there's a crime, and of course the pair are instrumental in solving it. If you're not used to the whimsical and sometimes farfetched methods of bumping off people that were all the rage in the Golden Age, you might quibble a bit with this one. You might also quibble a bit with the movie being so slow to get up and running but in spite of all the aforementioned I'd rank it as a pretty decent effort.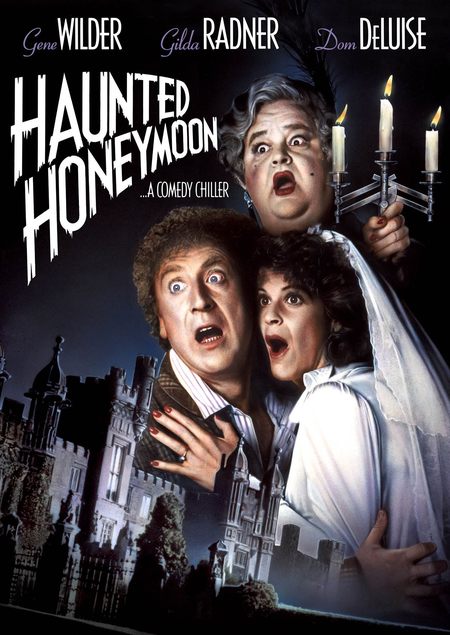 Haunted Honeymoon
Orion Pictures (1986)
Directed by Gene Wilder
Screenplay by Gene Wilder and Terence Marsh
Starring Gene Wilder and Gilda Radner
The other flick in this installment of the Old Dark House Double Feature is a little bit different. Mostly for the fact that it was made well after the heyday of old dark house movies. Probably about four or five decades after, depending on how you calculate this sort of thing.
Gene Wilder and Gilda Radner (in her last film role before her death in 1989), a real-life couple, star as a fictional couple who are the stars of an old time horror/suspense radio show and who are about to be married. Wilde's character begins suffering bouts of unexplained fear that he can't seem to shake. His uncle, a doctor, plans to ship the couple off to the family's mansion and scare him straight — in a manner of speaking. Of course, the plot thickens considerably from here, as befits any old dark house movie, regardless of its vintage.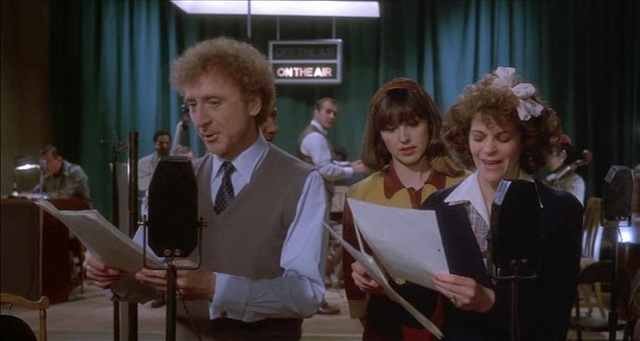 Some old dark house movies play it straight, though their numbers are relatively small. Most are a mix of humor and scares and all the way at the other end of the spectrum are a handful of specimens — like this one — that are essentially comedies spiced up with a few thrills. The plot here, what little bit there is, is nothing to write home about. But that's pretty much par for the course for old dark house movies. What it boils down to is a collection of eccentric characters of all shapes and sizes getting together in one of the more impressive old dark houses I've seen and enacting various sequences of laughs and scares.
You could have seen something similar in this era with a few other fairly big budget movies, including an adaptation of Neil Simon's Murder by Death (1976) and Clue (1985). The budget for Haunted Honeymoon wasn't exactly skimpy, by 1986 standards. It was $13 million, as opposed to $15 million for the top grosser of the year — Top Gun — and it shows.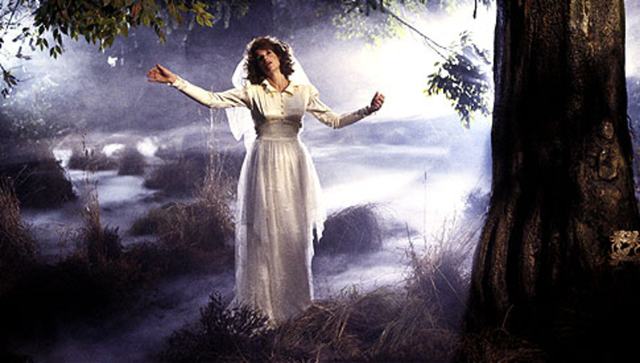 Most noteworthy here, at least for me, was Dom DeLuise's show-stealing performance as the wealthy old matriarch of the family. Yes, that's right — matriarch. While he/she plays it low-key — at least by Dom DeLuise's standards – his performance elicited some of the biggest laughs of all.
Haunted Honeymoon hardly qualifies as a masterpiece of old dark housedom, but I'd rank it as passably entertaining and not an altogether bad way to spend an hour and a half of your life.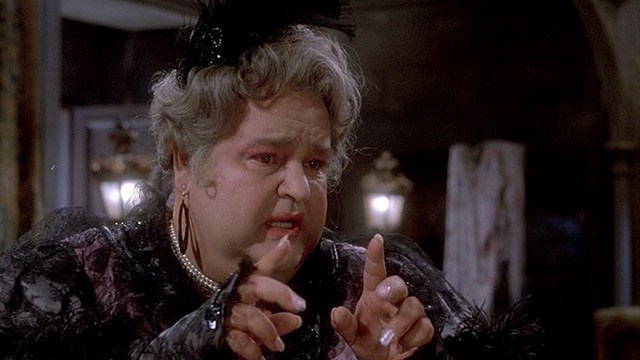 Our previous Old Dark House Double Features include:
Old Dark House Double Feature I: The Ghost and the Guest (1943) and The Monster Walks (1932)
Old Dark House Double Feature II: Secret of the Chateau (1934) and The Headless Ghost (1959)
Old Dark House Double Feature III: The Ghost in the Invisible Bikini (1966) and Ghost of Dragstrip Hollow (1959)
---
William I. Lengeman III's last article for us was Star Trek Movie Rewatch: Star Trek V – The Final Frontier (1989). He holds forth at www.wileng3.com.