Old Dark House Double Feature III: The Ghost in the Invisible Bikini (1966) and Ghost of Dragstrip Hollow (1959)
Old Dark House Double Feature III: The Ghost in the Invisible Bikini (1966) and Ghost of Dragstrip Hollow (1959)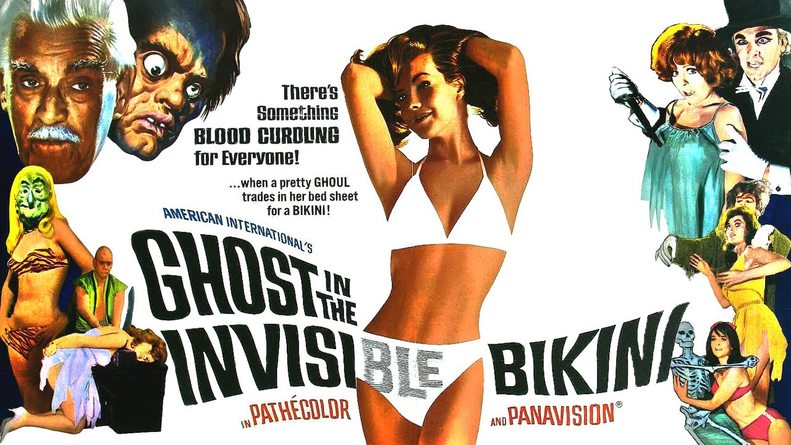 The Ghost in the Invisible Bikini
American International Pictures (1966)
Directed by Don Weis
Written by Louis M. Heyward and Elwood Ullman
Starring: Basil Rathbone, Boris Karloff, Tommy Kirk, Deborah Walley, Aron Kincaid
I'm not sure how the phrase "everything but the kitchen sink" originated. Perhaps to describe this movie, which pulls out all the stops. As with Ghost of Dragstrip Hollow, I went into it with very low expectations and ended up being surprised.
I'm pretty sure this is the only movie ever made that starred Basil Rathbone, Boris Karloff and Tommy Kirk. Black Gate readers will probably know the first two names and I think it's safe to say that this movie wasn't the highlight of their careers, although Rathbone turns in an energetic performance.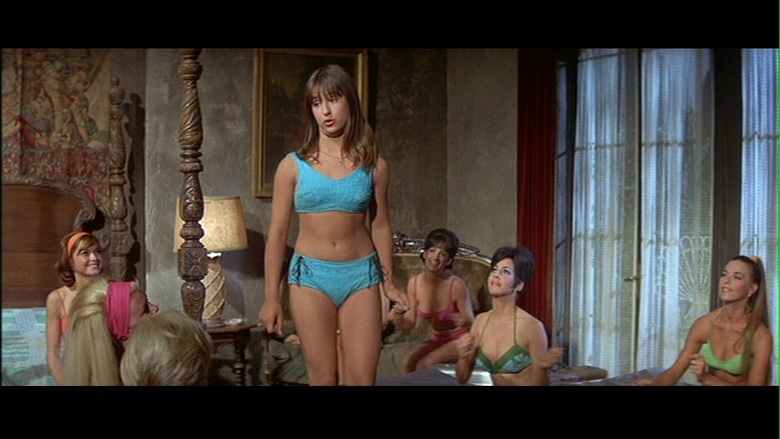 Tommy Kirk, as you may or may not know, was, as Wikipedia puts it, "best known for his performances in a number of highly popular movies made by Walt Disney Studios such as Old Yeller, The Shaggy Dog, The Swiss Family Robinson and The Misadventures of Merlin Jones, as well as beach party movies of the mid 1960s." Also on hand, Nancy Sinatra and Claudia Martin, daughter of Dean Martin — and a cast of what seems like thousands.
As things get underway, Karloff's character — a wealthy circus impresario — has recently died and his ghost is concerned that his shady lawyer (Rathbone) is going to do shady things with his estate. Various parties turn up at his mansion for the reading of the will. Then, for no clear reason that I could discern — except that this is AIP — a busload of teens turn up at the mansion and commence to throw a beach party — minus the beach. There's also a rather non-threatening biker gang, some of Karloff's old circus crew, and — in the time honored old dark house tradition — a gorilla.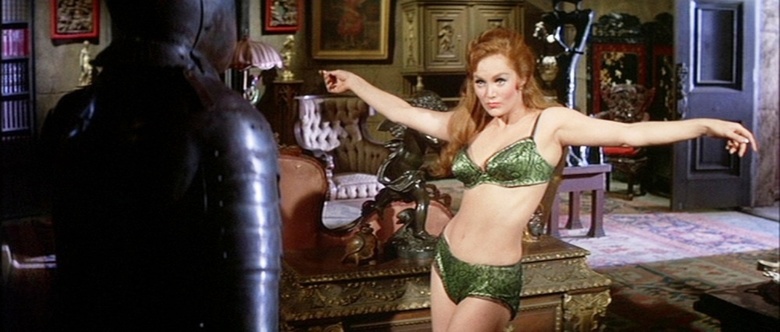 To be nitpicky about it, this is not really an old dark house movie at all, since there are a pair of bonafide ghosts prowling about. There's Karloff and there's the ghost who gives the movie its name. She was his assistant and she died about three decades before him, so she is suitably proportioned for the so-called invisible bikini, which is represented by a special effect that doesn't quite succeed.
Plotwise, there's not really much to say, since the construction of this one was rickety, even by AIP standards. So I'll summarize by saying that this was one of the best old dark house beach party biker movies with a gorilla that I've ever seen.
Watch the complete film on YouTube.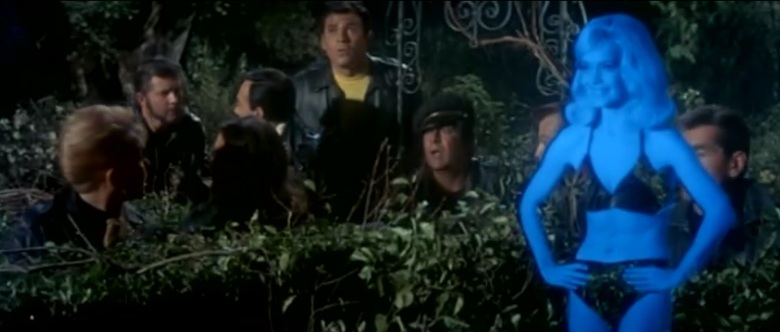 Ghost of Dragstrip Hollow
American International Pictures (1959)
Directed by William J. Hole Jr.
Written by Lou Rusoff
Starring: Jody Fair, Russ Bender, Henry McCann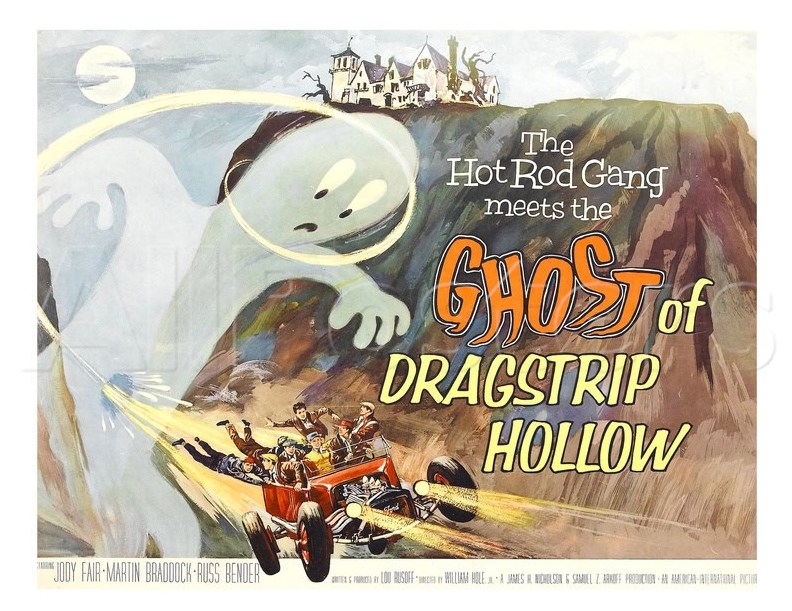 If you know anything about American International Pictures (AIP) then you know that their gimmick was mostly to quickly turn out large numbers of cheaply made movies geared toward a teen audience. It would probably be safe to say that quality was not one of their goals. The last one that I reviewed, The Headless Ghost, also came out in 1959 and also mixed teens with ghosts. I thought it was a bit of a dud.
Ghost of Dragstrip Hollow is not Citizen Kane, not by any stretch of the imagination, but I was pleasantly surprised. Though it wasn't much of a movie it had a quirky kind of charm, with a good bit of offbeat humor (a saxophonist being repossessed while still playing) and quite a few nifty keen rock and roll tunes. Oddly enough, there's not much in the way of drag racing or ghosts.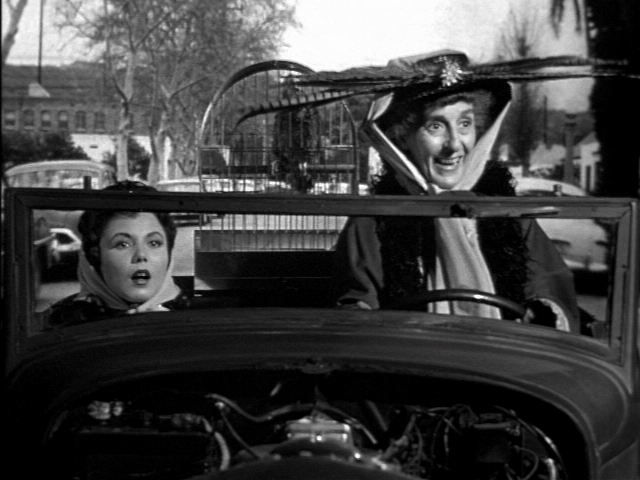 The plot, if you want to call it that, focuses on a drag racing club that's trying to get the word out to the rest of the world that they're actually a good upstanding bunch of kids. They're making their case to a reporter, who is more or less embedded with them for the majority of the film.
One of the twists is that the top racer hereabouts is a girl (if you can even imagine such a thing), who serves more or less as the protagonist. When her eccentric old aunt comes to visit (with her zany talking parrot) the whole gang heads off to the old mansion that the aunt happens to own, a mansion that's said to be haunted.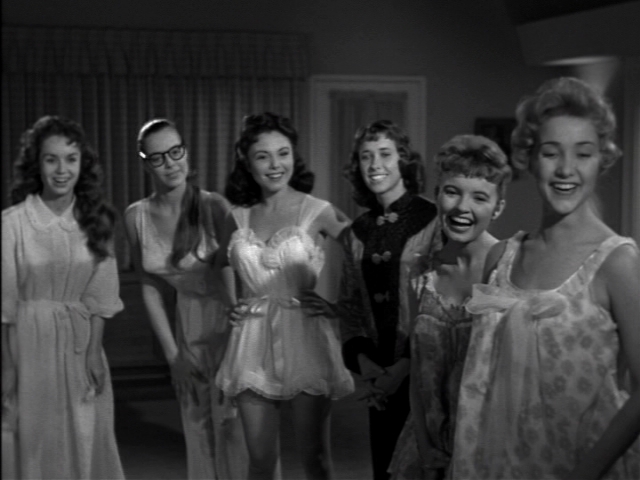 A raucous dance party breaks out, as one would expect, and in the best old dark house tradition it turns out that the hauntings are not all they're cracked up to be.
Watch the complete picture on YouTube.
Our previous Old Dark House Double Features include:
Old Dark House Double Feature I: The Ghost and the Guest (1943) and The Monster Walks (1932)
Old Dark House Double Feature II: Secret of the Chateau (1934) and The Headless Ghost (1959)
---
William I. Lengeman III's last article for us was Star Trek Movie Rewatch: Star Trek V – The Final Frontier (1989). He holds forth at www.wileng3.com.