Word On The Street – Toronto
Word On The Street – Toronto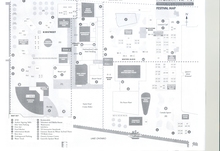 In September, Word on the Street takes place in major cities all over Canada, though not necessarily on the same day. In fact, if you live in Ontario, as I do, you could conceivably participate in both Ottawa's and Toronto's events.
I'm sure this kind of festival happens elsewhere, but the only other place I've experienced it is in Spain, for the Dia National del Libro
The purpose of the festival is to celebrate the written word. All kinds of businesses and associations attend to sell and give away books, magazines, comics, etc. At first glance, however, it might look as though all this is being done without much celebration of writers. If you have a look at the map, you'll see that there were only two sections devoted directly to writers, the "Writers' Block" and the "Genre Zone."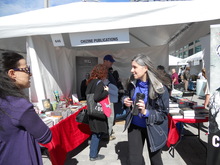 Oddly, the Writers' Block showcased only writers' associations or groups, like the SF Writers of Canada, or the Mesdames of Mayhem. Individual writers were given booths in the Genre Zone.
By far the greater number of booths were given over to publishers, including a large section for magazines. Does this have to do with the fact that these businesses are in the best position to pay for larger booths, and are therefore given the top traffic spots? Of course it does. It's true that these businesses wouldn't exist without writers, but they're still businesses.
Not that they left their writers out in the cold. In most cases the larger publishers and the professional organizations, like the Crime Writers of Canada, had signing sessions at their booths, where authors associated with them were given a time, usually an hour, to sign books and meet their fans. In this way, writers could get promotion without having to pay for a booth themselves.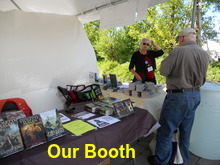 I did take a booth of my own, since DAW (my publisher) is based in New York, and doesn't have a Canadian presence. I shared the space with my friend, the mystery writer Vicki Delany, who is published by Poison Pen, out of Arizona. (That's Vicki in the photo) As individual writers, we were given space in the Genre Zone. We were more than a bit concerned when we first saw the map, as you can well imagine (we were booth 545). Not only is the Genre Zone the smallest section, but it's tucked off in the southeast corner, with apparently no through traffic.
As it turned out, we had nothing to worry about. For one thing, as an open-air festival, there wasn't any specific entrance, and people were walking in from the lake side of the venue, not just from the street side. We were getting as much traffic as any other section on the perimeter.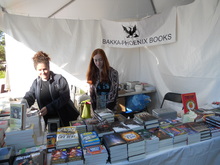 We also had, for the first time, a stage of our own. In the past, there's been a main stage where authors were featured, giving readings or being interviewed. Those featured tended to be among the more literary folk, or the most famous or best-selling of genre writers. In having a Genre Zone Stage, we were able to program genre writers all day long.
Another big draw for the Genre Zone was the presence of Chizine Publications and Bakka-Phoenix Books. Chizine is a major horror and dark fantasy publisher in Canada, and sponsors monthly readings in Toronto, Ottawa and Winnipeg. Bakka is Canada's oldest SF and Fantasy specialty bookstore, founded in 1972, and is the cauldron from which the writers Tanya Huff, Michelle West, and Leah Bobet have emerged.
So, all in all a great day. Will I go again next year? Check with me later.
---
Violette Malan is the author of the Dhulyn and Parno series of sword and sorcery adventures (now available in omnibus editions), as well as the Mirror Lands series of primary world fantasies. Find her on Facebook and follow her on Twitter @VioletteMalan..