The Public Life of Sherlock Holmes: Holmes & Watson (more from Otto Penzler's SH Library)
The Public Life of Sherlock Holmes: Holmes & Watson (more from Otto Penzler's SH Library)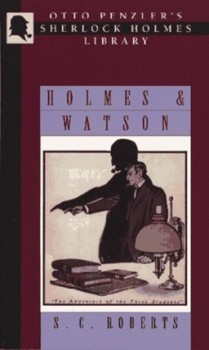 (Third in a series of posts about the nine-volume Otto Penzler's Sherlock Holmes Library)
So, I've done a post on Vincent Starrett's two books in Otto Penzler's Sherlock Holmes Library. And a second post looked at the two books from James Edward Holroyd. So, that covers four of the nine tiles in this series. As I wrote in the Starrett post:
"Bear in mind, every bit of anything you ever wanted to know wasn't available on the internet back when Penzler republished these books. Heck, the Baker Street Journal wasn't even available as a collection on CD yet. This collection of Sherlockiana was uncommon for the time."
Sir Sidney Castle Roberts' Holmes & Watson first saw the light of day in1953. He had already been Secretary of Cambridge University Press, Vice Chancellor of the University of Cambridge by that time and was at the time Master of Pembroke College, Cambridge, Chairman of the British Film Industry (BFI) and President of The Sherlock Holmes Society of London. Add in the many books he had authored and it is a pretty impressive resume.
Roberts opens the book with a long chapter featuring several Holmesian themes: his creation, his life, his temperament, his attitude to women, his music and his kinship with Doctor Johnson. There are far more through pieces of Sherlockiana out there on these topics, as well as full-blown biographies and memoirs of Sherlock Holmes. But this slender volume offers an enjoyable look at each of the topics.
The Samuel Johnson piece is rather short, but since two of Roberts' first four books were written about the man, it's a topic that the author is well qualified to elucidate on. Roberts intersperses Canonical references with fiction of his own creation, such as fragments of a previously undiscovered manuscript relating to the death of Cardinal Tosca. The section on Holmes' attitude towards the fairer sex is likely the best essay in this section.
The second chapter consists of two essays about the good Doctor Watson. The first is a satirical response to Monsignor Ronald Knox' "Studies in the Literature of Sherlock Holmes." That essay is acknowledged to be the foundation for all those who have since written about Holmes and Watson as if they were real people. This is referred to as 'Playing The Game.' Since Knox was poking fun at Biblical scholars, it's rather amusing how seriously people take the Holmes thing these days.
Roberts understood, however, and cleverly tweaked Knox, referring to "Knocksius' reckless handling of the evidence." It's all in good fun!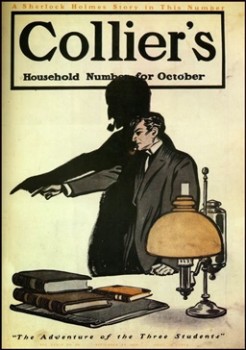 The other Watson essay, which is the longest individual piece in the book, is a look at the life of Holmes' Boswell and it's a fine read. Highlights include speculation on Watson's youth (the goldfields of Australia are prominently mentioned) as well as a brief look at who might have been his second wife. I think that this essay is worth the price of the book alone.
"The Baker Street Scene" consists of two essays. "221B in Retrospect" is a charming piece written about the 1951 Sherlock Holmes exhibition and provides a nice description for those of us who did not see it.
The second, "Last Words," leads off with this still relevant observation:
"Why, in conclusion, should it be deemed worthwhile to make these essays in biographical and topographical reconstruction? The answer is simple: the personalities of Holmes and Watson took such universal hold upon the hearts and imaginations of readers and have strained that hold so tenaciously over a period of sixty years that their lives, their habits, and their characteristics haves become an object of greater interest than the adventures which they shared."
Add another sixty-ish years to Roberts' number and that is one of the most astute observations made in the entire world of Sherlockiana.
Roberts also included a short play set at Baker Street on Christmas Eve. I don't really care for it, myself.
That is not true of his Holmes short story, "The Strange Case of the Megatherium Thefts," which rounds out the book. It is very much in the Doylean style and I think it's one of the better 'early' pastiches. As with all the books in this series, I don't know that the casual Holmes reader would make this a favorite. But the slightly more avid Sherlockian would do well to pick up a copy. And like all of the Penzler Library books, it features a nice color illustration by Frederic Dorr Steele (this one from "The Three Students").
---
You can read Bob Byrne's 'The Public Life of Sherlock Holmes' column here at Black Gate every Monday morning.
He founded www.SolarPons.com, the only website dedicated to the 'Sherlock Holmes of Praed Street' and blogs about Holmes and other mystery matters at Almost Holmes.
He is an ongoing contributor to The MX Book of New Sherlock Stories series of anthologies, with stories in Volumes III, IV and the upcoming V (Kickstarting now!).