The Public Life of Sherlock Holmes: Vincent Starrett on the Great Detective
The Public Life of Sherlock Holmes: Vincent Starrett on the Great Detective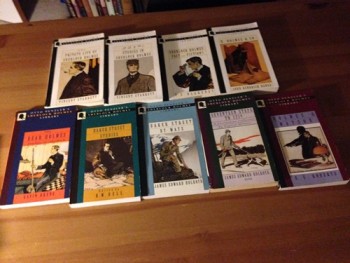 Otto Penzler is a larger than life name in the mystery field. He is the man behind New York City's 'Mysterious Bookstore' as well as the Mysterious Press (Nero Wolfe's current imprint!). He's a true mystery maven. You can read about his recent The Big Book of Sherlock Holmes Stories here.  From 1993 through 1995, under the Otto Penzler Books imprint, he reissued nine hard-to-find works of Sherlockiana.
The Otto Penzler Sherlock Holmes Library consists of the following books, originally published between 1906 and 1967:
221B: Studies in Sherlock Holmes — Vincent Starrett
Baker Street By-Ways — James Edward Holroyd
Baker Street Studies — Ed. By H.W. Bell
Holmes & Watson — S.C. Roberts
My Dear Holmes — Gavin Brend
The Private Life of Sherlock Holmes — Vincent Starrett
Holmes & Company — John Kendrick Bangs
Seventeen Steps to 221B — Ed. By James Edward Holroyd
Sherlock Holmes: Fact or Fiction? — T.S. Blakeney
Bear in mind, every bit of anything you ever wanted to know wasn't available on the internet back when Penzler republished these books. Heck, the Baker Street Journal wasn't even available as a collection on CD yet. This collection of Sherlockiana was uncommon for the time. Some entries are better than others, but they are all an affectionate part of my Sherlockian bookshelf (except, maybe for Bangs' book).
Read on for reviews of the two Vincent Starrett entries in the series. You may remember reading his outstanding introduction to the first Solar Pons collection.
The Private Life of Sherlock Holmes
This is one of the cornerstone books in any serious Sherlockian bookshelf, and my copy is personally inscribed by Otto himself. The book was originally published in 1933 and is chock full of great Sherlockiana.
Starting with part of the classic Dorr Steele color illustration for "The Norwood Builder," this one just feels like a classic (a word I don't use often, but seems perfect for this review). Again: what is now common knowledge in 2016 was not nearly as widely known and certainly not as widely disseminated in 1933. And the topics had not been covered as deeply as they have been over eighty years later.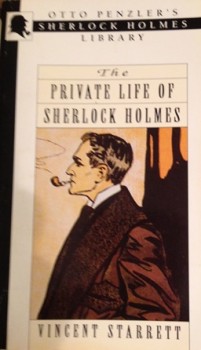 Starrett opens with mention of Joseph Bell's influence on Doyle and then discusses the publication of A Study in Scarlet and The Sign of Four. Already he has pulled in his reader.
"The Return of Sherlock Holmes" is a nice piece about the Reichenbach Falls and 'bringing Holmes back' without reviving him for The Hound of the Baskervilles. "No. 221-B Baker Street" comes complete with a reproduction of Gray Chandler Briggs' hand-drawn map of the famous neighborhood.
The book's title chapter is about Holmes' social life and hobbies and 'leisure' reading. "The Real Sherlock Holmes" discusses Doyle's true-life crime investigations, a subject which has since resulted in several more detailed books.
"Impersonators of Mr. Sherlock Holmes" is a great chapter, discussing William Gillette's famous play, plus a few others and then moving onto similar fiction. Starrett praises Arthur Wontner (one of my personal favorites who you read about here) with the sentence: "Surely no better Sherlock Holmes than Arthur Wontner is likely to be seen and heard in pictures, in our time." Fine words, indeed! There follows an essay discussing parodies and burlesques.
An absolute gem is "The Evolution of a Profile." This look at how the illustrated image of Holmes developed would be the standard on the subject until Walter Klinefelter's marvelous Sherlock Holmes in Portrait and Profile (followed by my own humble effort, "Evolution of a Profile").
Of Frederic Dorr Steele Starrett says, "Sixty tales, in all, comprise the saga of Sherlock Holmes, and Dorr Steele has illustrated twenty-nine. While he yet lives and loves, and lifts his pencil, will he not do the other thirty-one?"
That sentence conveys one of the strengths of this book. Starrett had a wonderful writing style. That he was a scholar on the subject of Sherlock Holmes is indisputable. But he never "writes down" to the reader. Instead, he is intent on sharing something he truly loves. I have yet to encounter an author of Sherlockiana that has as perfectly captured this trait as Starrett.
There are two "examinations," an appendix and a short bibliography to round out the book.
At 214 pages, this is the second longest book of the series (Starrett's 221B: Studies in Sherlock Holmes comes in at 247 pages). I would also venture to say that The Private Life of Sherlock Holmes is one of the finest pieces of Sherlockiana ever written. Wessex Press issued a seventy-fifth anniversary edition, edited by Starrett scholar Ray Bentzer.
221B: Studies in Sherlock Holmes
The second Starrett book in Penzler's series was originally published in 1940. Unlike The Private Life of Sherlock Holmes, which was an original composition, Starrett served as editor of this collection of Sherlockiana, contributing only one piece; a pastiche entitled "The Adventure of the Unique Hamlet."
221B contains fifteen essays and a crossword puzzle. It starts off with "The Field Bazaar," a scene written by Doyle for the Edinburgh University newspaper. It consists of an episode in which Holmes seemingly reads Watson's mind, then explains how he did it. One suspects that it certainly was not widely available in 1940.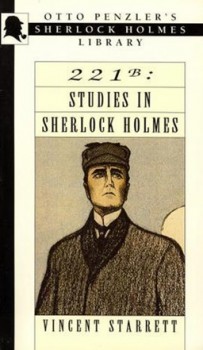 "Was Sherlock Holmes an American?" Baker Street Irregulars (BSI) founder Christopher Morley's heretical supposition that the world's first consulting detective was really born on the western side of the Atlantic ocean, follows.
R.K. Leavitt's "Nummi in Arca" looks at Holmes' fiscal situation over the years and is an interesting topic for exploration. Meanwhile, Elmer Davis and Jane Nightwork each contribute articles about the role of matrimony in Dr. Watson's life. There's a topic that folks don't tire of.
P.M. Stone writes about a reporter's visit to an aging Holmes in "Sussex Interview." I enjoyed this little piece.
Starrett's "The Adventure of the Unique Hamlet" is frequently listed near the top of pastiche rankings. I have never understood this. Near the end of the story (which I don't wish to give away) Holmes explains to the villain how the trail he took between the two houses gave him away. Unless I'm missing something, this leaves a hole that you could drive a truck through and quashes the redeeming qualities of the tale.
Someone once told me it was a tongue-in cheek-pastiche, which would seem to make it a parody. But the whole thing, with that one glaring exception, reads like an authentic pastiche. And not a bad one, minus the big problem.
"Sherlock Holmes in Pictures" is a nice reminiscence by the great Frederic Dorr Steele himself and worthy of inclusion in more collections. Edgar Smith's "Appointment in Baker Street" is an early dramatis personae from the Canon. Remember; this was long before Holmes encyclopedias by Orlando Park, Jack Tracy and Matthew Bunsen. At 101 pages, it is also far and away the longest piece of the book.
There are a few other chapters as well. There are some good reads in 221B: Studies in Sherlock, but it is a mixed bag and not on the same level as Starrett's Private Life of Sherlock Holmes.
Both these books by Holmes (and Solar Pons) doyen Vincent Starrett belong on any aspiring Sherlockian's bookshelf.
---
You can read Bob Byrne's 'The Public Life of Sherlock Holmes' column here at Black Gate every Monday morning.
He founded www.SolarPons.com, the only website dedicated to the 'Sherlock Holmes of Praed Street' and blogs about Holmes and other mystery matters at Almost Holmes.
He is an ongoing contributor to The MX Book of New Sherlock Stories series of anthologies, with stories in Volumes III, IV and the upcoming V.