The Public Life of Sherlock Holmes: Back to Otto Penzler's SH Library
The Public Life of Sherlock Holmes: Back to Otto Penzler's SH Library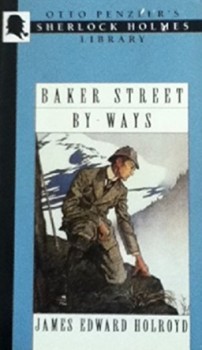 (Second in a series of posts about the nine-volume Otto Penzler's Sherlock Holmes Library)
A couple of weeks ago, The Public Life of Sherlock Holmes looked at Vincent Starrett's two entries in Otto Penzler's Sherlock Holmes Library series. Another author provided two entries for the series: James Edward Holroyd.
Holroyd helped establish the Sherlock Holmes Society of London in 1951, the original London Sherlock Holmes Society having been disbanded some years earlier. He was also the first editor of the Society's Sherlock Holmes Journal. This collection of essays reads as a combination of personal reminiscences and musings about a topic that was certainly dear to his heart.
Baker Street Byways
"Where it All Began" gives us a picture of how Holroyd came to become a Sherlockian and also states his claim that he provided the genesis for the popular Sherlock Holmes Exhibition of 1951. The Westminster Library has a page dedicated to the Exhibition on Sherlock Holmes.
Two essays discuss Sidney Paget, Frederic Dorr Steele and other illustrators of the Canon. It is easy to forget in this internet age that the average individual did not have access to thousands of pictures and nearly unlimited information with the click of a button. Holroyd helped provide illumination in a darker time. And may I recommend my own "The Illustrated Holmes" regarding this subject.
There is the seemingly obligatory pondering about the actual location of 221B Baker Street, a topic that most Sherlockians never seem to tire of (I exclude myself from this category and skip over such articles). "Fanciful Furnishings" includes some humorous asides indicating that Holroyd's wife was less than supportive of his dream to someday construct a version of Holmes' sitting room within his own establishment. The man who believes that he is king of his own castle should try telling the queen that he is going to build a Victorian-era sitting room, based on some fictional stories, in the basement.
The final essay, "A Baker Street Portrait Gallery," contains character sketches of several persons in the Canon. This is a nice idea and a longer version of the article with speculative wonderings would not be amiss, even today.
Baker Street Byways is a pleasant, lightweight diversion but is probably in the lower half of the Penzler series (John Kendrick Bangs' R. Holmes & Company is dead last.). I know I've read it less often than several others in the series. It's not bad, just not that memorable.
This is one of two Holroyd books in the Penzler collection, he being editor of Seventeen Steps to 221B. As with the other books in the collection, the cover of Baker Street Byways features one of Frederic Dorr Steele's wonderful color illustrations; this one from "The Empty House."
Seventeen Steps to 221B
And with that, we segue to Seventeen Steps to 221B, which features a Dorr Steele illustration from "The Missing Three-Quarter." Subtitled A Sherlockian Collection by English Writers, that's exactly what this volume, originally published in 1967, is.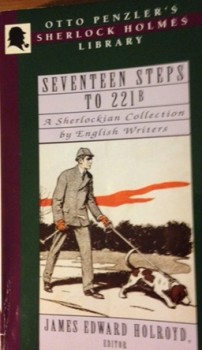 There are seventeen essays from some of the names writ largest in the world of British Sherlockiana – along with a nice explanatory introduction from Holroyd. Of course, it includes Monseigneur Ronald Knox's foundational essay, "Studies in the Literature of Sherlock Holmes." 'The Game' and the countless writings upon the writings ("Never have so many written so much for so few") indisputably trace their roots back to this work.
Dorothy L. Sayers, the famous mystery author, known throughout the Holmes world for her study of the question, 'Oxford of Cambridge?' (I'm not going to tell you her answer: go find the essay yourself!), looks at problems with "The Dates in the Red-Headed League."
Arthur Marshall's nifty little essay, "Ring for our Boots," gives us a look at Watson as Holmes' roommate and helper. It's nicely done, with subtle humor.
"Sherlockiana: The Faith of a Fundamentalist," by Bernard Darwin, is one of the neatest essays I've read yet and is a recommended piece for any serious Sherlockian. It also tells you the answer to the Sayers question posited above. It's followed by E. V. Knox's "The Passing of Sherlock Holmes," which reads pretty authentically.
J.C. Masterman's "The Case of the Gifted Amateur is a parody told from Inspector Lestrade's perspective. Which makes it rather unique.
There are also essays by S.C. Roberts and Gavin Brend, who have their own books in this Sherlock Holmes Library series.
Adrian Conan Doyle, with some help from the talented John Dickson Carr (who has his own essay in this collection), took it upon himself to succeed his own father with The Exploits of Sherlock Holmes. He sat at Sir Arthur's own desk and produced some pretty decent stories. That book clearly marks his finest contribution to the Holmes field, as he was an unpleasant person in most other matters. "The Adventure of the Deptford Horror" is included here.
Holroyd's own "'Our Client's Foot Upon the Stair'" looks at the many visitors who have made the climb to the famous Baker Street rooms.
There are a few other essays and the book ends with R. Ivar Gunn's "Examination Paper." I have an ShD (Doctorate in Sherlockiana) from the Watsonians Society, and this exam is hard!
While I like Holroyd's Baker Street Byways, I value Seventeen Steps more because it has some fine essays I've never come across elsewhere: even in this internet age. These essays require the reader to dig down a little deeper. There's some admirable work here.
I'll tell you what: If you were to begin your Sherlockian bookshelf with the two Starrett and the two Holroyd books in Penzler's series, you'd be off to one heck of a start.
There are five more volumes we haven't looked at yet, and I'd wager a pound to a penny you'll be seeing at least a few more of them on some Monday in the future.
---
You can read Bob Byrne's 'The Public Life of Sherlock Holmes' column here at Black Gate every Monday morning.
He founded www.SolarPons.com, the only website dedicated to the 'Sherlock Holmes of Praed Street' and blogs about Holmes and other mystery matters at Almost Holmes.
He is an ongoing contributor to The MX Book of New Sherlock Stories series of anthologies, with stories in Volumes III, IV and the upcoming V.