Gypsies, Monsters, and Very Spooky Real Estate: Haunted Castles: The Complete Gothic Stories by Ray Russell
Gypsies, Monsters, and Very Spooky Real Estate: Haunted Castles: The Complete Gothic Stories by Ray Russell
Ray Russell received the World Fantasy Lifetime Achievement Award in 1991 and the Bram Stoker Lifetime Achievement Award in 1992. His novels included The Case Against Satan (1962), Incubus (1976), and Absolute Power (1992), and he published a half dozen horror collections in his lifetime, including Unholy Trinity (1967), Prince of Darkness (1971), and The Book of Hell (1980).
Stephen King called his novelette "Sardonicus," his best known work, "perhaps the finest example of the modern Gothic ever written." It was collected, with the follow up tales "Sanguinarius" and "Sagittarius," in Haunted Castles: The Complete Gothic Stories, published in hardcover in 1985 by Maclay & Associates, with a cover by Stanley Mossman (above left). Penguin Classics released it in a new hardcover edition in 2013 with a new foreword by Guillermo del Toro, and the book will be released in paperback for the first time at the end of this month, with a deliciously creepy new cover (above right).
Here's the description.
[Click the images for bigger versions.]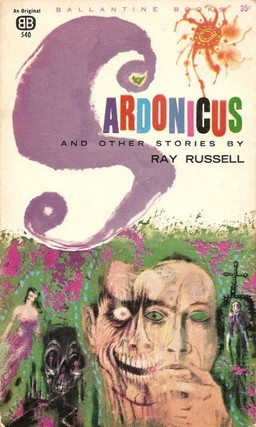 Horror legend Ray Russell's haunting and macabre stories, including "perhaps the finest example of the modern Gothic ever written" (Stephen King), with a foreword by acclaimed filmmaker Guillermo del Toro.

Haunted Castles is the definitive, complete collection of Ray Russell's masterful Gothic horror stories, including the famously terrifying novella trio of "Sardonicus," "Sanguinarius," and "Sagittarius." The characters that sprawl through Haunted Castles are frightful to the core: the heartless monster holding two lovers in limbo; the beautiful dame journeying down a damned road toward depravity (with the help of an evil gypsy); the man who must wear his fatal crimes on his face in the form of an awful smile. Engrossing, grotesque, and completely entrancing, Russell's Gothic tales are the best kind of dreadful.
Here's the complete Table of Contents.
"Comet Wine" (1967)
"Sagittarius" (1962)
"Sanguinarius" (1967)
"Sardonicus" (1961)
"The Cage" (1959)
"The Runaway Lovers" (1967)
"The Vendetta" (1969)
Haunted Castles, Dark Mirrors: On the Penguin Horror Series by Guillermo Del Toro
Haunted Castles: The Complete Gothic Stories was published in hardcover by Penguin Classics in October 2013, and will be reprinted in trade paperback by Penguin Classics on September 27, 2016. It is 256 pages, priced at $16, or $11.99 for the digital edition.
See all of our recent Vintage Treasures here.