Phileas Fogg Finds Immortality
Phileas Fogg Finds Immortality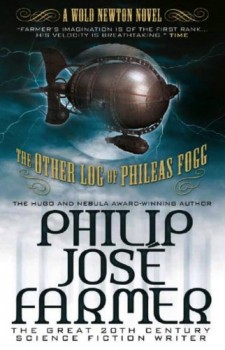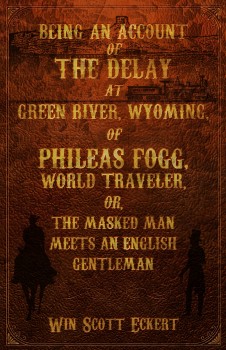 When Jules Verne created gentleman adventurer Phileas Fogg in his 1873 novel, Around the World in Eighty Days, he had no way of imagining the bizarre turn his character's chronicles would take a century later. When Philip Jose Farmer added The Other Log of Phileas Fogg to his Wold Newton Family series in 1973, he had no way of imagining that four decades later there would exist a Wold Newton specialty publisher to continue the esoteric literary exploits of some of the last two centuries' most fantastic characters.
Farmer's concept, in a nutshell, is that Verne's globetrotting adventure is part of a far larger extraterrestrial conflict between two powerful alien races, the Eridani and the Capellas. Phileas Fogg was raised by the Eridani it turns out and, in the course of Farmer's work, we learn that Verne's Captain Nemo (the anti-hero of his 1870 classic, Twenty Thousand Leagues Under the Sea and its 1874 sequel, The Mysterious Island) is not only a Capellan agent, but is also the same man known as Professor Moriarty in Sir Arthur Conan Doyle's Sherlock Holmes mysteries.
Josh Reynolds was the first author to follow in Farmer's footsteps in a substantial fashion when he authored two direct sequels to The Other Log of Phileas Fogg for Meteor House: 2014's Phileas Fogg and the War of Shadows and 2016's Phileas Fogg and the Heart of Osra. Both books are set in 1889 and see Phileas Fogg coming out of retirement as the extraterrestrial conflict between the Eridani and the Capellas reaches Earth once more. The second of these titles involves Ruritania, the fictitious country from Anthony Hope's Ruritanian Romances trilogy that began with the famous 1894 novel, The Prisoner of Zenda.
All of this is sure to delight those who embrace the Wold Newton concept that posits a logical and orderly shared universe (in the modern vernacular) for so many classic literary works. Others are more prone to shake their heads in bewilderment while purists may rail at the injustice that no one can stop these seemingly criminal acts of literary speculation.
While I have zero tolerance for the rewriting of an author's original public domain works (not being amused at the prospect of stumbling across Jane Austen's Pride and Prejudice and Pederasts on Amazon sometime soon), I have a soft spot for Wold Newtonians. I may not "play the game" myself (just as I absent myself from "the Great Game" of Sherlockians), but I do find the research of Wold Newton scholars such as Win Scott Eckert and Rick Lai to be not only fascinating, but inspiring. The work of Farmer and his acolytes has led me to discover works I might have otherwise missed entirely and has enriched my life as both a reader and a writer determined to pay tribute to the past.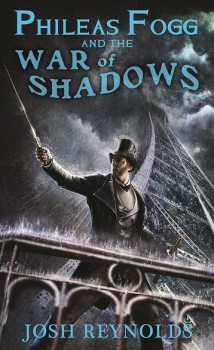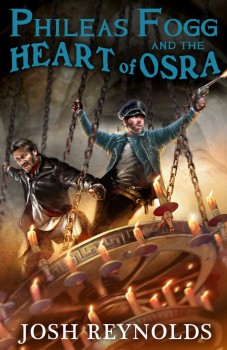 The aforementioned Mr. Eckert has recently completed Meteor House's first chapbook, Being an Account of the Delay at Green River, Wyoming, of Phileas Fogg, World Traveler, or, The Masked Man Meets an English Gentleman. The title is certainly a mouthful, but very much in keeping with the fiction of its setting in that and, indeed, in every other respect. It is the attention to detail that makes these particular pastiches work so wonderfully well even if you find yourself shaking your head declaring it didn't really happen that way.
Eckert opts not to follow Reynold's lead and deal with Fogg coming out of retirement, but rather sets his abbreviated adventure in a narrative gap during Verne's original adventure. The geographic and temporal placement gives Eckert an excellent opportunity to work in The Lone Ranger and lay the groundwork for The Green Hornet (the pulp hero who was originally intended to be a relative of the Western masked man by the characters' co-creators George Trendle and Fran Stryker who introduced them in 1933 and 1942, respectively).  The villain of the piece is Sax Rohmer's Fu Manchu by way of George Alec Effinger's backstory for the Devil Doctor in a pair of Sherlock Holmes pastiches that would otherwise have slipped into obscurity but for the worth they hold to Wold Newton chronologists. As is often the case when copyright is clearly in force or is murky enough to make challenging fraught with peril, names and identities are sometimes only suggested. While the internet may be crawling with self-proclaimed experts on public domain law eager to argue so long as it isn't their dime on the line, most publishers prefer not to have to exhaust their resources in court if the author does not have a license.
Some have asked me how I feel about authors incorporating Fu Manchu in their works and sometimes filling in his backstory while I work to meet the terms of the license laid out by the original author's widow and administered by his literary estate. While it is true that I am, at times, unreasonably proprietary about Rohmer's characters [the very thought of one of my greatest influences penning a Wild Adventure of Doc Savage and Fu Manchu has been known to send me into fits of early dementia or so certain wags claim], I do remind myself that many hands have offered conflicting accounts of the many lost Sherlock Holmes adventures that Conan Doyle frequently mentioned in passing. The only real canon is the original author's work. The rest is mere footnotes.
The success of a pastiche lies in the continuation author's fidelity and abilities and the reader's willingness to accept them as legitimate heirs. While  Altus Press and Meteor House may offer conflicting adventures for Pat Savage, the reader is unlikely to mistake one for the other. Some will choose to reconcile both accounts into one narrative. Others will accept one offering while rejecting the other due to personal like or dislike. Still others will only accept the originals and dismiss any effort to continue a series after the original author as heretical. So it is with my efforts and every other continuation writer. We can only do our very best to rekindle the joy the original works brought us and try to share that joy with our readers and perhaps inspire them to discover lost treasures and seek a creative outlet of their own.
In the meantime, do yourself a favor and order a copy of Meteor House's first chapbook, Being an Account of the Delay at Green River, Wyoming, of Phileas Fogg, World Traveler, or, The Masked Man Meets an English Gentleman. It will be the time of your life if you let it or that infuriating work you can't quit thinking about if you don't. As for me, I count myself fortunate not only to have discovered the works of both Will Murray and Win Scott Eckert in my lifetime, but to have befriended them both. And sure, I would be terrified to have Will Murray for competition so feel free to stop encouraging him to use Fu Manchu as a villain for Clark Savage's over-achieving son. I have to sign off now. I ixslab nybyl plop.
---
William Patrick Maynard is the authorized continuation writer for the Estate of Sax Rohmer. His third Fu Manchu thriller, The Triumph of Fu Manchu will be published by Black Coat Press later this year.