B&N on 10 Science Fiction & Fantasy Debuts to Watch for in the Second Half of 2016
B&N on 10 Science Fiction & Fantasy Debuts to Watch for in the Second Half of 2016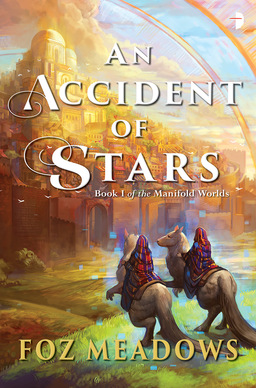 Who doesn't love a good debut novel? Science fiction and fantasy are all about discovering new and wonderful things… and what's more new and wonderful than discovering a great new writer, capable of transporting you to amazing worlds?
Last month at the Barnes & Noble blog, Ross Johnson compiled a terrific list of 10 particularly promising debut novels of SF & fantasy. Over the last few weeks, I've read and seen enough to know that Johnson has a very keen eye. For example, here's what he says about An Accident of Stars, the upcoming novel by Black Gate blogger Foz Meadows.
Hugo-nominated fan writer Foz Meadows' hotly anticipated adult debut tells the story of Saffron Coulter, who falls through a looking glass of sorts into a richly detailed world of magic and intrigue. Saffron is quickly embroiled in a civil war lead by another Earth-born visitor, one who sorely regrets providing aid to the fantasy kingdom's ruler, Leoden, recent claimant to the throne. The story is as much about the complex relationships between a large cast of (mostly) women characters as it is about the building and exploring the realm of Kena.
An Accident of Stars, Book I of The Manifold World, will be published in mass market paperback by Angry Robot on August 2, 2016. It is 496 pages, priced at $7.99, or $6.99 for the digital edition. Our previous coverage of the B&N blog includes:
Barnes and Noble Calls Out the 20 Best Paranormal Fantasy Novels of the last Decade
Spotlight on Barnes & Noble "Get Pop-Cultured" Month
Breathtaking and Truly Epic: Barnes & Noble on Michael Livingston's The Shards of Heaven
Barnes and Noble Picks the Best SF and Fantasy of 2015
Barnes & Noble's Fantasy Picks for March
Barnes & Noble on 7 Essential New Sci-Fi & Fantasy Short Story Collections
Johnson's list also includes novels by Indra Das, David D. Levine, Keith Yatsuhashi, and J. Patrick Black. Check out the complete list here.