Breathtaking and Truly Epic: Barnes & Noble on Michael Livingston's The Shards of Heaven
Breathtaking and Truly Epic: Barnes & Noble on Michael Livingston's The Shards of Heaven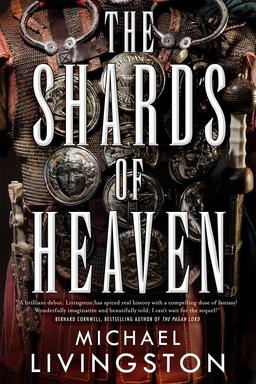 Michael Livingston's stories for Black Gate were widely acclaimed by our readers. So I'm looking forward to seeing how the wider world reacts to his first novel, on sale this month from Tor. I got my first taste when I saw this rave review from Sam Reader at Barnes & Noble:
The Shards of Heaven is breathtaking in scope. With the first volume of a planned series intertwining Roman history and myth with Judeo-Christian mythology, Michael Livingston has created something truly epic… He uses real events and characters as the backbone for a truly inventive epic fantasy like novel, a massive undertaking that launches a tremendously ambitious series.

With Julius Caesar dead, a civil war threatens to destroy Rome. On one side is Octavian, Caesar'a ruthless successor, who will resort to any means to assert his power over the Empire. On the other are Caesar's former ally Marc Antony and his lover Cleopatra… But then history twists, and Octavian's half-brother Juba, a Numidian prince and thrall of Rome, uncovers something that will upend the conflict completely: the Trident of Poseidon, which gives the wielder the ability to control any fluid with an extension of will. The discovery comes with the knowledge that the trident is but one of the legendary Shards of Heaven, artifacts whose immense power hints at the existence of a strength greater than man's…

The action here is big and bloody… Livingston uses violence in sudden, sparing bursts, each fight given a sense of purpose and consequence — until he doesn't: the book's centerpiece is the Battle of Actium, a massive naval conflict both grand in scope and enormously complex in its intricacies. Livingston keeps tight control over both.
The Shards of Heaven will be published by Tor Books on November 24, 2015. It is 414 pages. priced at $25.99 in hardcover and $12.99 for the digital version. It is the opening volume in an epic new historical fantasy series set against the rise of the Roman Empire. See our previous coverage here.