Future Treasures: The Shards of Heaven by Michael Livingston
Future Treasures: The Shards of Heaven by Michael Livingston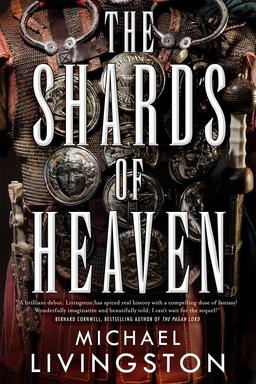 Michael Livingston's short stories in Black Gate revealed a keen talent for mixing history and fantasy — especially his acclaimed tale "The Hand That Binds (BG 9)," a fabulous retelling of the legend of Beowulf. His story "At the End of Babel" (Tor.com) is another fine example. His first novel, on sale next month from Tor Books, reveals the secret history of Ancient Rome, and the hidden magic behind the history we know.
Julius Caesar is dead, assassinated on the senate floor, and the glory that is Rome has been torn in two. Octavian, Caesar's ambitious great-nephew and adopted son, vies with Marc Antony and Cleopatra for control of Caesar's legacy. As civil war rages from Rome to Alexandria, and vast armies and navies battle for supremacy, a secret conflict may shape the course of history.

Juba, Numidian prince and adopted brother of Octavian, has embarked on a ruthless quest for the Shards of Heaven, lost treasures said to possess the very power of the gods — or the one God. Driven by vengeance, Juba has already attained the fabled Trident of Poseidon, which may also be the staff once wielded by Moses. Now he will stop at nothing to obtain the other Shards, even if it means burning the entire world to the ground.

Caught up in these cataclysmic events, and the hunt for the Shards, are a pair of exiled Roman legionnaires, a Greek librarian of uncertain loyalties, assassins, spies, slaves… and the ten-year-old daughter of Cleopatra herself.

Michael Livingston's The Shards of Heaven reveals the hidden magic behind the history we know, and commences a war greater than any mere mortal battle.
The Shards of Heaven will be published by Tor Books on November 24, 2015. It is 414 pages. priced at $25.99 in hardcover and $12.99 for the digital version. It is the opening volume in an epic new historical fantasy series set against the rise of the Roman Empire.