Future Treasures: Skinner Luce by Patricia Ward
Future Treasures: Skinner Luce by Patricia Ward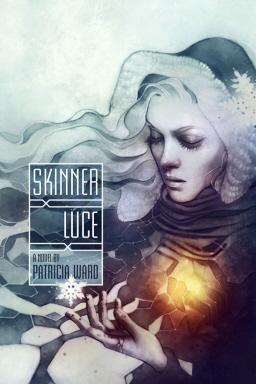 Skinner Luce. What kind of a title is 'Skinner Luce?' If I were publishing my first fantasy novel, I probably wouldn't call it that. Then again, if I were publishing my first fantasy novel, I'd probably call it, Orcs Invade Illinois Grab Your Pitchforks and CHARGE!!!! So maybe no one should listen to me.
Complex characters and taut, poignant writing highlight this hardened literary fantasy set in the frigid winters of present-day Boston.

Every year when the deep cold of winter sets in, unbeknownst to humanity, dangerous visitors arrive from another world. Disguised as humans, the Nafikh move among us in secret, hungry for tastes of this existence. Their fickle, often-violent needs must be accommodated at all times, and the price of keeping them satisfied is paid most heavily by servs.

Created by the Nafikh to attend their every whim, servs are physically indistinguishable from humans but for the Source, the painful, white-hot energy that both animates and enslaves them. Destined to live in pain, unable to escape their bondage, servs dwell in a bleak underworld where life is brutal and short.

Lucy is a serv who arrived as a baby and by chance was adopted by humans. She's an outcast among outcasts, struggling to find a place where she truly belongs. For years she has been walking a tightrope, balancing between the horrors of her serv existence and the ordinary life she desperately longs to maintain; her human family unaware of her darkest secrets.

But when the body of a serv child turns up and Lucy is implicated in the gruesome death, the worlds she's tried so hard to keep separate collide. Hounded by the police, turned upon by the servs who once held her dear, she must protect her family and the life she's made for herself.
Skinner Luce will be published by Talos Press, an imprint of Skyhorse Publishing, on January 12, 2016. It is 343 pages, priced at $24.99 in hardcover. Cover by Anna Dittmann.