Galaxy Science Fiction, January 1953: A Retro-Review
Galaxy Science Fiction, January 1953: A Retro-Review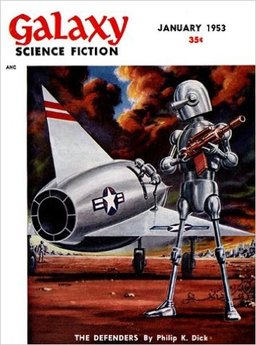 Galaxy rolled along into a new calendar year. Elsewhere in the United States, Dwight D. Eisenhower was about to begin his first term in office, succeeding Harry S. Truman. It's amazing to sit back for a moment and realize how long ago all of this great fiction was published.
"The Defenders" by Philip K. Dick – Humanity has been underground for years while the United States and Russia fight a nuclear war. On the surface, robots called leadys fight for humans, detonating bombs that destroy and irradiate the earth. It's a harsh life for humans, drudging out their years without sunlight, struggling to survive while producing weapons to win the war. Taylor gets called from his rest period to go with a team to the surface to investigate some inconsistent reports from the leadys. It's a dangerous assignment, given the amount of destruction and radiation awaiting them, but it's not one he can refuse.
I didn't want to give more of a description in fear that I might spoil the story. It has a couple of surprising points – the first of which is somewhat easy to guess. It has a classic, Cold War feel to it, which adds to its charm. Philip K. Dick used the story as a basis for the novel The Penultimate Truth, published in 1964.
"Teething Ring" by James Causey – An alien visits Melinda at her home, though she doesn't realize he isn't human. The strange man asks to survey her in exchange for one of his devices. Although she selects something for herself, her toddler son takes interest in a neural distorter and won't be dissuaded. Melinda offers the man a dollar for it and gives it to her son; after all, it keeps him quiet.
It's a lighthearted tale, but I didn't find it that interesting. It does, however, make for a good relief between "The Defenders" and "Life Sentence."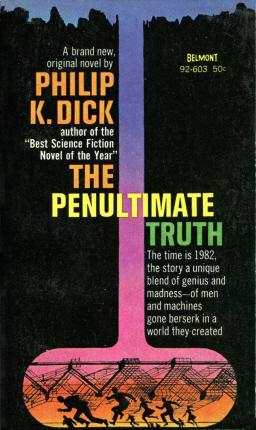 "Life Sentence" by James McConnell – Oliver Symmes murdered two people, something unheard of in present society. His sentence is an unnaturally extended life where he can be studied and experimented on in hopes that such a crime is never repeated.
This is a somber story, but it's beautifully written. Allow me to share an excerpt:
Shadows. For so long there had been shadows. And for a time the fleeting passage of dreams and past memories had been a solace. But now the shadows were withered and old, debilitated and desiccated. They had been sucked dry of interest long ago.

But still they flitted through his mind on crippled wings, flapping about briefly in the now-narrowed shell of his consciousness, then fading back among the cobwebs. Every once in a while, once of them would return to exercise its wings.
"The Inhabited" by Richard Wilson – An invisible alien can enter the body of any animal or human it wishes, sharing the experiences of its host. Its mission is to determine if Earth is a place for its species to invade. The only issue is that the visitor can't control its hosts, even with the simplest command.
I liked the premise of the story. And even though the main character was on a mission to take over the Earth, I felt bad for him, due to the nature of his species. Richard Wilson contributed science fiction over multiple decades and won a Nebula Award for his novelette, "Mother to the World," in 1969.
"Prott" by Margaret St. Clair – The main character is in deep space to study the prott – a species which inhabits the vacuum of space. Little is known of them, but the main character hopes to use telepathy to communicate with them and understand more about them.
There's something about fiction written as diary entries that I find appealing, so my enjoyment of the tale may be somewhat biased on that point alone. But I like the style along with the interaction with the aliens. The only thing I'm a bit uncertain of is the ending itself; I still can't decide if I liked it or not.
Ring Around the Sun (Part 2) by Clifford D. Simak – Vickers drives his forever car into a town, stopping to eat and rest. While he's in a diner, the townspeople upturn his car. Vickers learns that the media has reported that the new devices, like the forever car, were produced by mutants to overthrow the human race.
Fearing that someone may associate him with the car, Vickers tries to flee, only to end up trapped in a building while people search for him. His only escape is a painted top from his childhood, for when he stared at it as a child, he could transport himself to another Earth. So he uses the toy, as impossible as it seems to his adult mind, and after several tries, he succeeds.
He emerges on a new Earth, one identical in landscape to his Earth but without any signs of civilization. His goal is to reach the Preston house – a place he found as a child in his hometown. But he's far from there and only able to travel on foot, hunting and foraging for food the entire journey.
When he reaches the house, he learns of his origin and the purpose the mutants intend for him. His interest, however, is finding the love of his youth, but both goals may align.
There is a lot to this story, and it's well written. The scenes from the second Earth are beautiful and feel like the quieter parts of an adventure fantasy tale. I'm excited to find out how the novel ends.
---
Matthew Wuertz's last retro review for us was the December 1952 issue of Galaxy Science Fiction.