Science Fiction's Unsung Hero: SFX on Perry Rhodan
Science Fiction's Unsung Hero: SFX on Perry Rhodan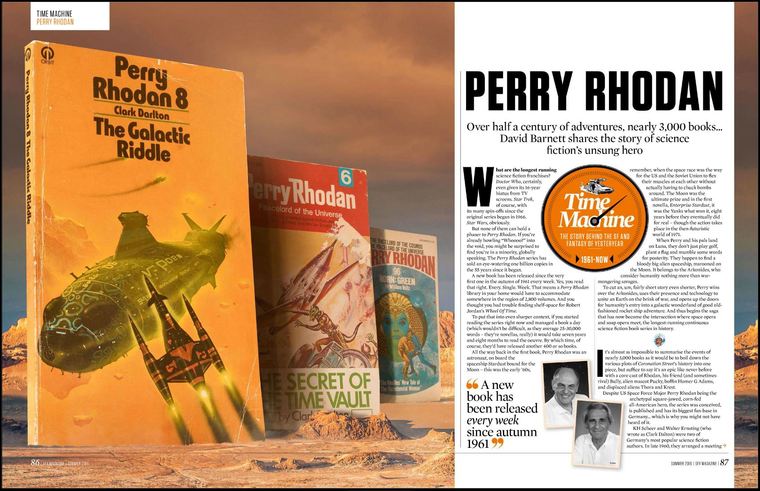 Two weeks ago I got a cryptic e-mail from the distinguished John DeNardo, founder and publisher of SF Signal. The whole thing read:
Just read David Barnett's SFX article on Perry Rhodan, including quotes by you. Very cool!
Wait, what? When did I say stuff about the mighty Perry Rhodan? DeNardo, what are you talking about? John kindly elaborated in his next note:
It's the Summer 2016 issue. I'm a digital subscriber. Screen caps attached.
The first of two double-page spreads John forwarded me is above. It's a terrific full-color article from SFX magazine on Perry Rhodan, the long-running space opera, and it does indeed include a quote from me. I knew nothing about it. You know what that means. That's right — there's a science fiction magazine called SFX out there and I didn't know about it. What the hell, world?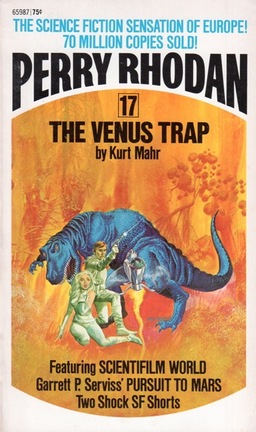 Well, one thing at a time. Let's talk about Perry Rhodan. David Barnett, author of the SFX article, does a fine job explaining the history of this fabled SF icon. Here he is.
The Perry Rhodan series has sold an eye-watering one billion copies in the 55 years since it began. A new book has been released since the very first one in the autumn of 1961 every week. Yes, you read that right. Every. Single. Week. That means a Perry Rhodan library in our home would have to accommodate somewhere in the region of 2,800 volumes…

The series was conceived, is published and has its biggest fan-base in Germany, which is why you might not have heard of it… There have been sporadic English-language publications of Rhodan, notably the run of paperbacks by Future in the 1970s, but the series has been very much under the radar of most SF fans…

Perry Rhodan is what you might call uncomplicated SF. It was born in the years before the New Wave pioneered by Michael Moorcock's New Worlds magazine, which ushered in a more literary, thoughtful school of writing, and Perry Rhodan resolutely ignored it…
Forrest J. Ackerman partnered with Ace (and his German-speaking wife Wendayne, who did much of the translation), to first bring the series to American shores in 1969. It was Perry Rhodan that introduced me to science fiction, when I was just eleven years old, with volume #17, The Venus Trap.
I wrote about my love of the series back in 1998 at SF Site, in an article titled The Return of Perry Rhodan, shortly after stumbling on the Vector Enterprises English-language editions produced by editor John Foyt in the magazine section of my local Borders. At first I thought David's quotes must be taken from that article, but nope. I assume it must have been an e-mail exchange, but I have no firm recollection of it.
Sure sounds like me, though. Here's the paragraph in question.
John O'Neill is one of the founders of the SF Site, one of the eariest genre webzines, now editor at Black Gate magazine. He remembers Perry Rhodan fondly, being introduced to the books in 1975 by a school friend. He says: "There's definitely a strong element of nostalgia to Perry Rhodan, at least for me. Perry Rhodan is an unabashed space opera, hugely ambitious, with all of time and space (and multiple dimensions) as its canvas, and with 100-issue story arcs. This grew directly out of the pulp roots of science fiction, which date back to the 1930s, the 'Buck Rogers' era of SF serials, and Perry Rhodan made a very conscious effort to appeal to that audience. And widely succeeded, I think….
Here's the second half of the article, courtesy of John DeNardo.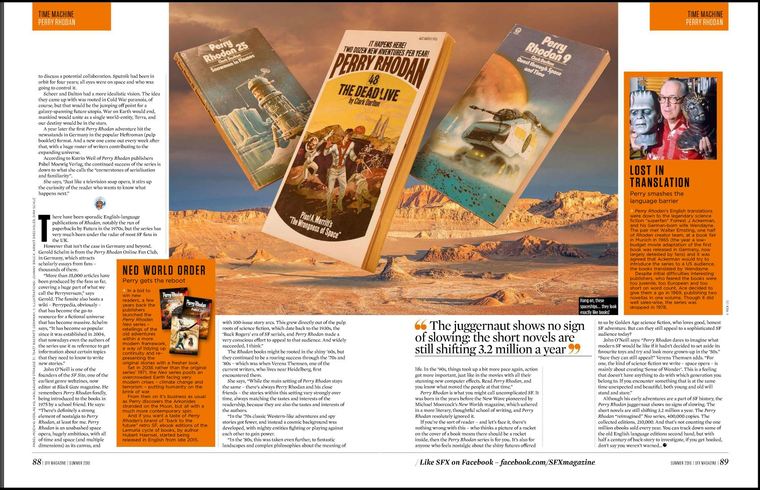 Who is the series for? David answers that question well, I think.
The Perry Rhodan series is for… anyone who feels nostalgic about the shiny futures offered to us by Golden Age science fiction, who loves good, honest SF adventure. But can they still appeal to a sophisticated SF audience today?

John O'Neill says: "Perry Rhodan dares to imagine what modern SF would be like if it hadn't decided to set aside its favourite toys and try and look more grown-up in the '50s…"

Although his early adventures of part of SF history, the Perry Rhodan juggernaut shows no signs of slowing. The short novels are still shifting 3.2 million a year.
Check out the latest issue of SFX here.
Now if you'll excuse me, I need to head to the book store to check out SFX magazine, and see if I need to add it to the list of 40 genre magazines we already cover here at Black Gate.