Mighty Pirate Kingdoms, Weather Wizards, and Quarrelsome Ghosts: Sarah Avery's The Imlen Brat
Mighty Pirate Kingdoms, Weather Wizards, and Quarrelsome Ghosts: Sarah Avery's The Imlen Brat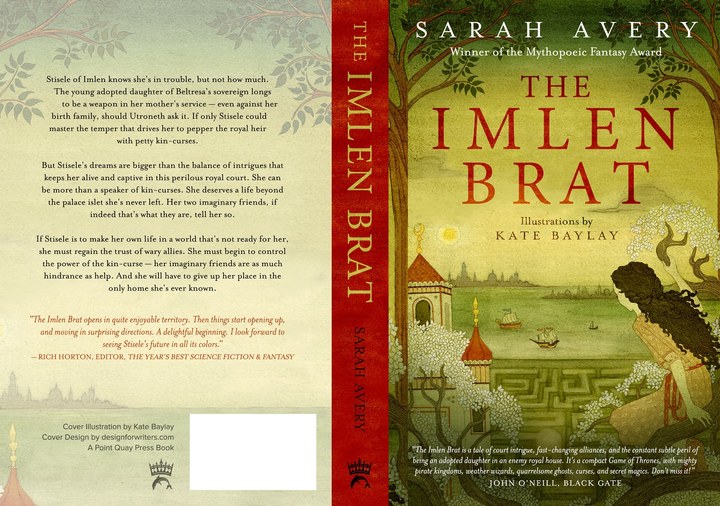 To me, The Imlen Brat will always be the story that got away.
After I bought "The War of the Wheat Berry Year" from Sarah Avery (it appeared in Black Gate 15), I begged her to send me something new. She responded in spectacular fashion, with a dynamite novella called "The Imlen Bastard." It was a marvelous tale of mighty pirate kingdoms, weather wizards, quarrelsome ghosts, secret magics, and deadly court intrigue, all seen through the eyes of an adopted daughter in an enemy royal house. I told Sarah I wanted to buy it, and happily set the wheels in motion to publish it.
Alas, it was not to be. BG 15 was our final issue, and I was forced to return all the fiction I was holding for future issues — including "The Imlen Bastard." Scarcely three years later, Sarah won the Mythopoeic Award for her first book, Tales from Rugosa Coven, and the world finally began to realize that Sarah was  a major new talent. Her successful Kickstarter to self-publish the novella wrapped up late last year (see her blog post about it all, "Kickstarting a Belated Black Gate Story: The Imlen Bastard"), and the book, now known as The Imlen Brat, is inching closer to release. Last month Sarah shared the gorgeous final cover design (above), saying:
This morning the book designers sent me a proof of the cover design, and it looks like just the kind of book I'd pick up if I saw it on the bookstore shelf… As a thank-you for email list subscribers, I'm offering a free short story ebook, a spin-off about Stisele, the heroine of The Imlen Brat. For at least the next three years, this story will be available only to my list subscribers.
The Imlen Brat will be released later this summer. The cover art is by Kate Baylay, and the cover was designed by designforwriters.com. Click on the image above for a bigger version, and subscribe to Sarah's e-mail list here to get the free 9,000-word story, "The Enemy in Snowmelt Season."