How Does Story Happen? An Interview with Jane S. Fancher
How Does Story Happen? An Interview with Jane S. Fancher
In my report on the 2016 Nebula Awards weekend, I talked about my two-part interview with SF and fantasy writer Jane S. Fancher, author of the Groundties trilogy and the Dance of the Rings novels. (It turned into a two-part interview because the memory on my new iPhone maxed out while recording CJ Cherryh's epic Grand Master talk, and my first attempt at an interview lasted all of three minutes. Fortunately, Jane was understanding enough to pick up our interview 24 hours later.)
The Dance of the Rings novels were some of the first review copies I ever received, back in the late 90s when we were first getting the review site SF Site off the ground, so they meant a lot to me personally, and it was a delight to finally meet Jane in person. Turns out we had a lot in common, not the least of which was fond memories of the 90s comic scene (especially WaRP Graphics, publishers of ElfQuest, where Jane got her start in the industry), and a fascination with SF publishing. She was kind enough to share her stories of breaking into the industry, the tumultuous ups and downs of starting with short-lived Warner Questar, publisher of her first three novels, and switching to DAW for her first fantasy series.
Here's the start of the interview, recorded at the Nebula Awards weekend at the Palmer House in downtown Chicago, or Friday, May 13th, in which Jane discusses the death of Warner Questar, and the impact that had on its freshmen authors.
In Part II, recorded at the same spot on Saturday, May 14th, Jane discusses "The era of non-reviewable books" and the reviewers who came to her rescue, ("Faren Miller, I love you"), the inspiration for the Dance of the Rings novels, the drama of families, and how stories happen. Here it is.
Jane's Netwalkers books are available in new digital editions at Amazon and other fine retailers. Here's a look at the beautiful wraparound John Howe covers for the first two novels in the Dance of the Rings trilogy.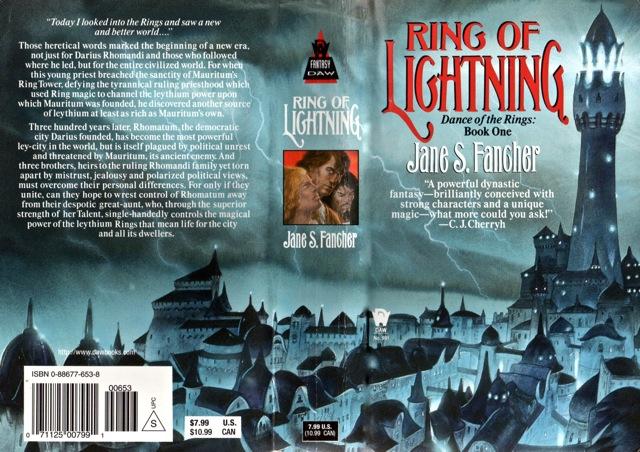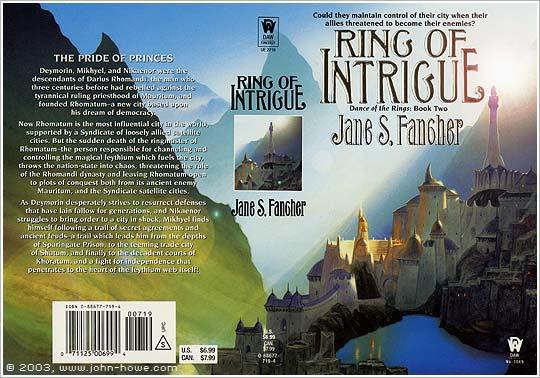 See all of our recent interviews here.