May Issue of The Dark Now on Sale
May Issue of The Dark Now on Sale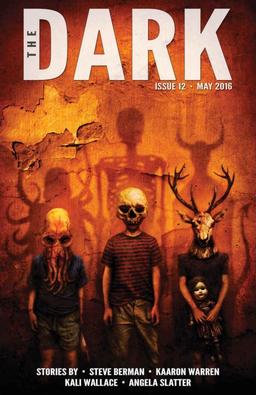 Last month we announced that Sean Wallace's quarterly magazine of dark fantasy and horror The Dark was making some welcome changes — including switching to monthly publication, relaunching their podcast series, and starting up a Patreon account. Their last quarterly issue, May 2016, is now available, with original stories by Steve Berman and Kali Wallace, and reprints by Kaaron Warren and Angela Slatter.
The Dark is edited by Sean Wallace, with assistance by Jack Fisher. Here's the Table of Contents.
"The Haferbräutigam" by Steve Berman
"The Body Finder" by Kaaron Warren (from Blurring the Line, 2015)
"Caroline at Dusk" by Kali Wallace
"The Jacaranda Wife" by Angela Slatter (from Dreaming Again, 2008)
You can read issues free online, or help support the magazine by buying the ebook editions, available for the Kindle and Nook in Mobi and ePub format. Issues are around 50 pages, and priced at $2.99 through Amazon, B&N.com, Apple, Kobo, and other fine outlets. A six issues sub used to be just $15, but I can't find anything on their website (or at Amazon) about subscriptions — but you can still buy back issues.
If you enjoy the magazine you can contribute to their new Patreon account. Read the complete announcement, and sign up here. You can also support The Dark by buying their books, reviewing stories, or even just leaving comments.
Read the May issue here, and see their complete back issue catalog here. The cover for May is by Vincent Chong. We last covered The Dark with Issue 11; the next issue is due in June.
See our May Fantasy Magazine Rack here, and all of our recent Magazine coverage here.