The Top 50 Black Gate Posts in March
The Top 50 Black Gate Posts in March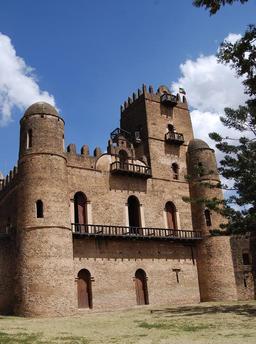 The number one post at the Black Gate blog last month was Sean McLachlan's report on the historically fascinating castles of Gondar, Ethiopia. Sean's adventures in Ethiopia certainly captured the attention of our readers — he also had the #3 post, with his photo-essay on the rock-hewn churches of Lalibela.
Coming in at #2 was the fifth chapter in William I. Lengeman III's ongoing Star Trek re-watch, on Star Trek III: The Search for Spock. I've been re-watching the early Star Trek films myself the past few months, and been enjoying this series very much.
Rounding out the Top Five are our Vintage Treasures report on The Silistra Quartet — by one of the most popular writers among Black Gate's readership, Janet Morris — and our look at Gardner's Dozois recent controversial comments on the New Sword and Sorcery.
Classic writers captured the next three slots, including Bob Byrne's report on the new Conan RPG, Rich Horton on Marion Zimmer Bradley, and Thomas Parker's look at one of the most hotly debated writers of pulp SF: "Classically Awful or Awfully Classic: A.E. Van Vogt's The World of Null-A."
Howard Andrew Jones had the #9 slot with his review of the Second Edition of Victory Point Games' popular Empires in America, and Drake author Peter McLean closed out the Top Ten with his thoughtful article on "Why We Shouldn't Hunt The Trope To Extinction."
The complete list of Top Articles for March follows. Below that, I've also broken out the most popular overall articles, online fiction, and blog categories for the month.
The Top 50 Black Gate posts in March were:
There were plenty of older articles popular last month as well. The 25 most popular blog posts written before March were:
The Top Black Gate Online Fiction features were:
The top categories last month were:
The Top 5o Black Gate blog posts in February are here, and you can see all 129 posts we made in the month of March here.