Read "The Great Detective" by Delia Sherman at Tor.com
Read "The Great Detective" by Delia Sherman at Tor.com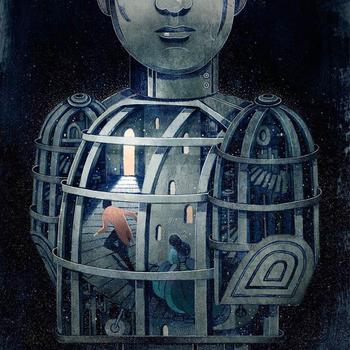 Delia Sherman is the author of The Freedom Maze, which won the Andre Norton Award, the Prometheus Award, and the Mythopoeic Fantasy Award for Children's Literature in 2012. She's also the author of Through a Brazen Mirror (1988), The Porcelain Dove (1993, also a Mythopoeic winner), and The Fall of the Kings (2002, with Ellen Kushner).
"The Great Detective" is an alternate history Sherlockian SF tale available free online at Tor.com — right up Bob Byrne's alley, now that I think about it.
When Sir Arthur Cwmlech's home is robbed and the Illogic Engine – his prize invention – stolen, it is only natural that he and his clever assistant Miss Tacy Gof consult with another inventor, the great Mycroft Holmes, about who has taken it. But it is really Mr. Holmes' Reasoning Machine who they are there to see, for it is only fitting for one automaton to opine on a matter concerning the fate of another of its kind. This charming story by award-winning fiction writer Delia Sherman is a delightful romp set within an a slightly altered version of one of our most beloved literary universes.
Patty Templeton interviewed Delia Sherman for Black Gate here, and C.S.E. Cooney reported on her Podcastle story "The Wizard's Apprentice" here. She is also the editor of Interfictions: A Journal of Interstitial Arts; we reported on the latest issue here.
"The Great Detective" was posted at Tor.com on February 17. It was edited by Liz Gorinsky, and illustrated by Victo Ngai. It's available here.
We last covered Tor.com with K. M. Ferebee's dark fantasy "Tom, Thom." For more free fiction, see our recent online magazine coverage.