Read K. M. Ferebee's "Tom, Thom" at Tor.com
Read K. M. Ferebee's "Tom, Thom" at Tor.com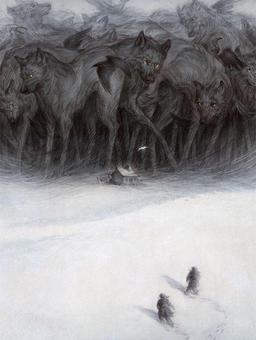 I'm not familiar with K. M. Ferebee, but a quick visit to her website, The Conference of the Birds, tells me she's published short stories in Shimmer, Fantasy Magazine, Strange Horizons, and Lady Churchill's Rosebud Wristlet.
It was her recent appearance at Tor.com that really attracted my attention, however. "Tom, Thom" is a dark fantasy tale available free online.
Young Tom has always dreamed of wolves, which everyone knows don't exist. One day he goes out for a log from the woodpile, and when he returns, there is another Tom, like him, but other. This dark and compelling tale from short fiction writer K. M. Ferebee will make you reconsider what may be lurking in the forest.
"Tom, Thom" was posted at Tor.com on February 3. It was edited by Liz Gorinsky, and illustrated by Rovina Cai. It's available here.
We last covered Tor.com with A.M. Dellamonica's epic fantasy "The Glass Galago." For more free fiction, see all of our online magazine coverage here."