Read A.M. Dellamonica's "The Glass Galago" at Tor.com
Read A.M. Dellamonica's "The Glass Galago" at Tor.com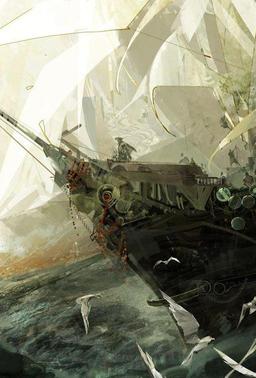 I've been catching up on some of the online fiction at Tor.com recently. They've published some new great fantasy by Joe Abercrombie, Matt Wallace, David Nickle, Jennifer Fallon, Melissa Marr, Delia Sherman, and many others.
Child of a Hidden Sea, the first novel in A. M. Dellamonica's trilogy The Hidden Sea Tales, was published in hardcover last June, and we covered it and its sequel, A Daughter of No Nation, in November. But that doesn't mean I've had time to read it… and I probably won't for many months. So I was delighted to see her 6,900-word story "The Glass Galago" available free at Tor.com. See? There are ways to keep tabs on all the hot new fantasy authors, if you look hard enough.
A.M. Dellamonica is at it again! The thrilling adventures of Gale Feliachild and Captain Parrish continue in a series of prequel stories that offers to take us deeper into the fascinating world of Stormwrack.

When Gale and the crew of the Nightjar are called back to the fleet to handle an issue involving a law regulating new patents and a missing magical inscription, they soon find themselves embroiled in a plot that is could potentially pit island against island. Now, they must discover the mystery of the glass galago before time runs out for both it and the fleet.
"The Glass Galago" was posted at Tor.com on Jan 26, and tagged as "Epic Fantasy." It was edited by Stacy Hill, and illustrated by Richard Anderson. It's available here.
We last covered Tor.com with Jennifer Fallon's "First Kill." For more free fiction, see all of our online magazine coverage here.