Interfictions Issue 6 is Now Available
Interfictions Issue 6 is Now Available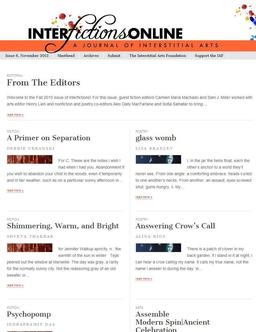 The sixth issue of online-only Interfictions magazine, cover dated November 2015, is now available.
Interfictions began as an anthology series launched by Delia Sherman and Theodora Goss, with Christopher Barzak as co-editor of the second volume. In 2013 the magazine moved to the internet, becoming Interfictions Online. It publishes poetry, nonfiction, fiction, and hybrids forms.
The fiction this issue is guest-edited by Carmen Maria Machado and Sam J. Miller. In their Editorial, they describe the issue thusly:
Several of the issue's pieces deal with family: in "A Primer on Separation," Debbie Urbanski provides a heartbreaking how-to manual for navigating the gulf that opens up between parent and child, while Lisa Bradley's "glass womb" reaches into the obscure and frightening territory between siblings. Shveta Thakrar tells a slipstream story of how our mothers' gifts help us, and sometimes fail us, in "Shimmering, Warm and Bright." In "Answering Crow's Call" by Alina Rios, family history falls like a thunderclap.

Moving from personal history to spiritual heritage, "Psychopomp" by Indrapramit Das looks at life and death through the lens of Hindu philosophy in the shadow of a cosmic tsunami. In "Assemble", theatre dybbuk, in collaboration with the Center for Jewish Culture, Leichtag Foundation, and the New School of Architecture and Design, create a unique theatre/dance/architecture piece inspired by the ancient ritual surrounding the harvest festival of Sukkot.
Along with these works that engage some of the world's oldest cultural forms, you'll find lively interactions with more recent literature: Amy Parker reimagines the young girl of Nabokov's Lolita, Matthew Jakubowski follows a critic who is trying to write about Mercè Rodoreda's novel War, So Much War, and Lauren Naturale searches for lesbian history in the imaginary space of historical fiction. Uche Ogbuji's "The Furies of Mad Max" engages a contemporary film narrative, while Rebecca Gould's translations of five ghazals by Hasan Sijzi (d. 1337) bring to English contemplations on gardens, birds, swords and wine.

These works ask how we perceive the world and how we communicate. Such questions lie at the heart of Nneoma Ike-Njoku's "Old Ghosts," which conjures the other world through sound, and "Perhaps, perhaps" by Saudamini Deo, which traces the limits of photography and ultimately the limits of sight. In Rebecca Campbell's "I Just Think It Will Happen, Soon," a woman and others like her are beckoned by an urgent, pulsing mystery beyond the realm of most people's perception.
Here's the complete TOC.
Fiction
"A Primer on Separation," by Debbie Urbanski
"Shimmering, Warm, and Bright," by Shveta Thakrar
"Psychopomp," by Indrapramit Das
"Kingdom by the Sea," by Amy Parker
"I Just Think It Will Happen, Soon," by Rebecca Campbell
Poetry
glass womb by Lisa M. Bradley
Answering Crow's Call by Alina Rios
The Furies of Mad Max by Uche Ogbuji
Five Ghazals by Hasan Sijzi, translated by Rebecca Gould
Old Ghosts by Nneoma Ike-Njoku
Perhaps, perhaps by Saudamini Deo
Arts
Assemble Modern Spin|Ancient Celebration by theatre dybbuk
Nonfiction
War Bond by Matthew Jakubowski
Some Approaches to Lesbian Historical Fiction by Lauren Naturale
Translating Gender: Ancillary Justice in Five Languages by Alex Dally MacFarlane
Read the issue online completely free here.
Interfictions: A Journal of  Interstitial Arts is edited by Delia Sherman and published by the Interstitial Arts Foundation. It appears twice a year (roughly). It is a paying market, paying 5 cents a word for fiction, 3 cents a word for nonfiction and 20 dollars per poem. The nonfiction & poetry editor is Sofia Samatar, the fiction editors are Christopher Barzak and Meghan McCarron. The arts editor is Henry Lien, and Alex Dally MacFarlane is the nonfiction editor.
See our November Fantasy Magazine Rack here, and all of our recent Magazine coverage here.