The Top 50 Black Gate Posts in February
The Top 50 Black Gate Posts in February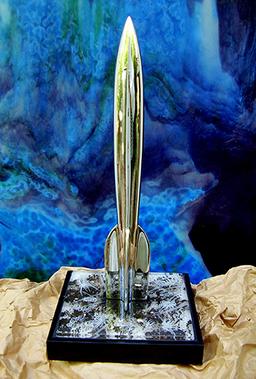 The top article at Black Gate last month wasn't even a BG piece, strictly speaking. It was a brief link to Matthew David Surridge's essay The Great Hugo Wars of 2015, at Splice Today. Based on the overwhelming traffic to that article, and the high number of comments, it seems our readers are still more than casually interested in the Hugo Awards.
Number 2 on the list was M Harold Page's look at Fool's Assassin, and How Robin Hobb Writes Lyrical Fantasy Without Being Boring. As always, never underestimate the power of a great title. It was followed by our obituary for BG contributor and author Bud Webster.
Rounding out the Top Five were Matthew Wuertz's piece on a 60-year old scandal, the Galaxy Science Fiction $6,500 Novel-Writing Sham, and Donald Crankshaw's review of D. P. Prior's second self-published fantasy novel Carnifex, the sequel to his popular debut The Nameless Dwarf.
Also in the Top Ten for February were Doug Ellis' historical essay on the Great Pulp Gathering at Mort Weisinger's House in 1937, Marie Bilodeau's review of season one of The Flash, Fletcher Vredenburgh's detailed look at Stephen R. Donaldson's The Illearth War, our sneak peek at Salomé Jones's new anthology Cthulhu Lies Dreaming, and Violette Malan's look at Agent Carter.
The complete list of Top Articles for February follows. Below that, I've also broken out the most popular overall articles, online fiction, and blog categories for the month.
The Top 50 Black Gate posts in February were:
There were plenty of older articles popular last month as well. The 25 most popular blog posts written before February were:
The Top Black Gate Online Fiction features were:
The top categories last month were:
The Top 5o Black Gate blog posts in January are here, and you can see all 127 posts we made in the month of February here.