Art of the Genre: 24 Hours Remain on The Hidden Valoria Campaign
Art of the Genre: 24 Hours Remain on The Hidden Valoria Campaign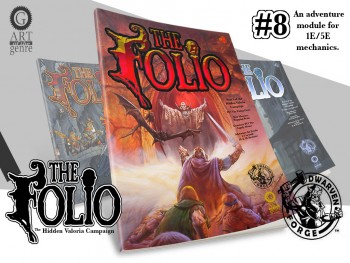 Art of the Genre continues to roll out Kickstarter after Kickstarter in their Folio series, this time teaming up with terrain production juggernaut Dwarven Forge to create The Hidden Valoria Campaign.  Dwarven Forge architect Stefan Pokorny opens the doors to his personal gaming world of Mythras so that AotG's own wordsmith Scott Taylor can have a run at the world capital of Valoria.  Stefan has always been a big fan of old fantasy pulp fiction, and along with Scott, the two have worked hard to produce a feel within Valoria of Fritz Leiber's Lankhmar, Howard's Conan, and even some of the mosaic aspects of Asprin's Sanctuary in Thieves' World.
Utilizing Dwarven Forge terrain sets, Taylor takes the Folio from a pure tabletop RPG to a miniatures compatible 3D play system.  Dungeons come alive with rubbish-strewn cellars, undead-inhabited crypts, monster-infested wizard towers, and even a gang-run 'Brawl Club' (First rule of Brawl Club, don't talk about Brawl Club).
Boasting old school TSR-like removable module covers, two interior booklets (Gazetteer & Adventure), as well as 2D & 3D mapping, Folio #8 continues in the AotG tradition of gaming in both 1st Edition AD&D as well as the new 5th Edition D&D mechanic.  Currently the project has achieved 6 Stretch Goals that help flesh out the Valorian neighborhood of The Patina Court, with a 7th & 8th Stretch Goal of a mini-adventure and full print production of Folio #9 still within reach.  You can find the campaign and all the details of it here.