The Refusal To Sprawl: Emily St. John Mandel's Station Eleven
The Refusal To Sprawl: Emily St. John Mandel's Station Eleven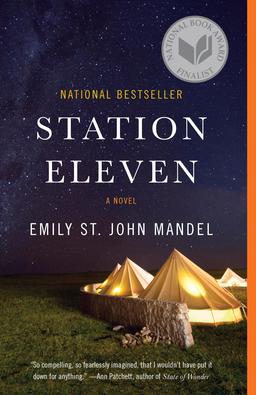 To peruse the book jacket of Station Eleven, one would think that this novel has a traditional main character (Kirsten). This, like the utterly misleading picture on the front –– the yellow tents and curving wall never crop up, so far as I can tell –– is a lie.
Station Eleven is akin in many ways to A Song Of Ice And Fire in that it positions a dozen main characters and asks us to follow them all, sometimes for moments, sometimes for chapters, in what amounts to a kind of prose chorale. The effort is largely successful, but it also suggests a grander canvas, one that Mandel, who surely thinks of herself as a writer of literary work, has no intention of pursuing.
Contrast with Mr. Martin: when he sets his dozen, then fifty, characters in motion, he follows every one, rabbit hole after rabbit hole. This is not to say that either approach is more valid than the other, but it's telling; the one method begets only a single book, the other a series or even a cycle.
Once again, I find myself puzzled by the (apparently necessary) differences between genre and literary publishing tropes. I honestly don't think Mandel even considered expanding her storylines, or following her characters farther afield. Expansion and long-form digressions are all but expected in fantasy and science fiction, and the short novel (say, Flowers For Algernon) is a rare bird these days, and getting rarer.
But in nominally literary work? One book, and you're out. Covers closed, shelve the title. Move along, people. Nothing more to see here.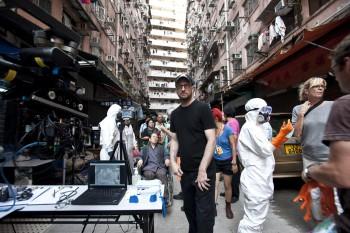 Why is this? I have no explanation. (What say you, gentle reader?) But I know this: two thirds of the way through the book, I had the discomfiting epiphany that the remaining pages were insufficient to wrap up the many threads now set in motion, at least not to my satisfaction.
I admit to a sense of loss, of disappointment. This is, in its way, a measure of Mandel's skill. She got me. I cared.
In terms of its effects and mood, Station Eleven's closest antecedent might be Steven Soderburgh's film, Contagion, which (in its turn) surely drew on two of the hottest sellers back in my Borders days, The Coming Plague and The Hot Zone. What will kill off humanity first, meteor strikes, trident missiles, or the next variant on swine flu?
Mandel has the answer, and it's anything but comforting –– although given the news this morning, of Zika virus arriving in force in Puerto Rico, one can imagine other agents of doom, slower to act and (in their way) more grueling.
One suddenly misses Arthur C. Clarke. Suffer the children.
---
Mark Rigney is currently serializing a brand-new novel on the Black Gate site, In the Wake Of Sister Blue, and it's available absolutely free, just click on the title. He has previously published three stories in the Black Gate Online Fiction library: "The Trade," "The Find," and "The Keystone." Tangent called the tales "Reminiscent of the old sword & sorcery classics… once I started reading, I couldn't stop. I highly recommend the complete trilogy." In other work, Rigney is the author of "The Skates," and its haunted sequels, "Sleeping Bear," Check-Out Time, and Bonesy. His website is markrigney.net.