Future Treasures: The Nameless City by Faith Erin Hicks
Future Treasures: The Nameless City by Faith Erin Hicks
Faith Erin Hicks has had a pretty enviable career in comics, as a writer for Lumberjanes, Buffy: The High School Years and The Last of Us: American Dreams, and as an artist for Nothing Can Possibly Go Wrong, and Brain Camp. On her own she's created Friends with Boys, Zombies Calling!, and the Eisner-Award winning The Adventures of Superhero Girl.
Her latest, The Nameless City, has the look and feel of epic fantasy. Built on an ancient mountain pass, cut through sheer rock by some long-lost technology, the Nameless City has been conquered so many times that its long-suffering inhabitants — a melting pot of an unknown number of previous civilizations — can't even agree on what to call it. Thirteen year-old Kaidu, the privileged son of a tribal leader, comes to the city to meet his father, a general with the ruling Dao army, for the first time. General Andren is a kind man, but too busy to spend more than a few minutes a day with a son he's never known.
Disappointed and lonely, Kaidu sneaks out of the protective enclave of the Palace each day to wander the city. There he meets Rat, a starving street urchin who steals his most precious possession: the ancient knife his father gave to him when they first met. Lost and humiliated, Kaidu chases Rat through the streets and across the rooftops of the city until he tackles Rat, retrieving his precious knife.
[Click the images for bigger versions.]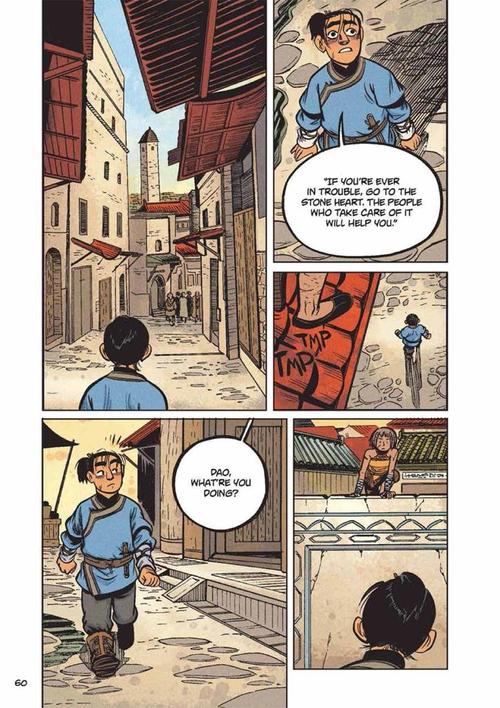 It's not long before Rat and Kaidu form a tentative friendship.  Kaidu brings Rat food, and in return she teaches him the secrets of the city — and how to survive on its streets. When the two of them sneak into the private library of the General of All Blades and pick up an ancient text neither can read, they unknowingly set in motion a chain of events that will alter the future of both of their peoples.
The Nameless City is fast paced and a lot of fun. It's a tale of intrigue, rebellion, and the clash of cultures, but it's mostly a story of unlikely friendships. Rat and Kaidu are the most obvious example, but unlikely friendships abound in this book. Like Erzi, son of the General of All Blades, and his peerless bodyguard Mura, an enigmatic warrior woman from an alien culture. And then there's General Andren, with his love for Kaidu's mother, a tribal leader… there's a story there, but it's not more than hinted it.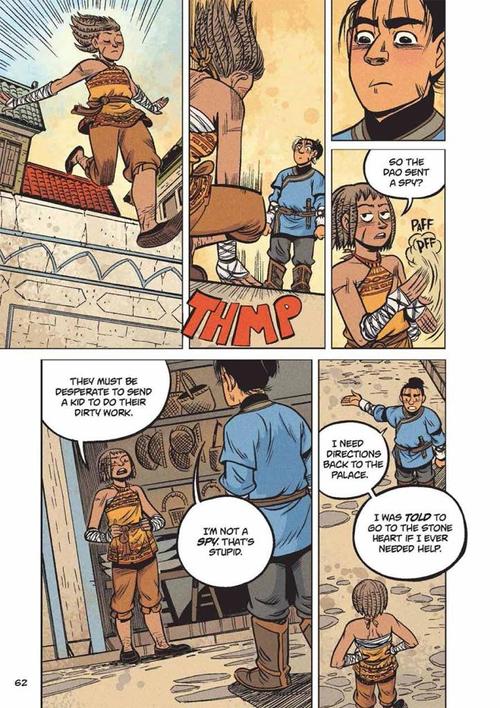 In fact, there's a lot of tantalizing hints of a wider tale dropped throughout the book. The rebels in the city causing all the trouble are backed by a group with nefarious motives. General Andren is seeking a long-lasting peace by sharing the wealth of The Nameless City with neighboring powers… but he's opposed by Erzi, who sees only the need for a stronger army. And the fascinating fragments of history Rat and Kaidu stumble upon hint at a rich back story. While the tale wraps up quite satisfactorily, there's plenty to pique my interest in future volumes… and indeed, the last page is a teaser ad for The Stone Heart, the next volume in the series.
With its great setting, terrific cast, and high-stakes action, The Nameless City is top-notch epic fantasy. But it's aimed at a very different audience than the Game of Thrones crowd. All the characters are sympathetic, even heroic, in one fashion or another, and the villains are shadowy and mysterious. Like a lot of manga, it's targeted pretty clearly at middle school readers, but I loved it. So sue me.
The Nameless City was written and drawn by Faith Erin Hicks, with colors by Jordie Bellaire. It will be published by First Second on April 5, 2016. It is 240 pages in full color, priced at $14.99 in trade paperback and $9.99 for the digital edition.
See all of our coverage of the best in fantasy comics here.