Retro Reviews: Amazing Science Fiction, June 1960 and July 1960
Retro Reviews: Amazing Science Fiction, June 1960 and July 1960
Two more issues from 1960, which more and more seems to me to be the year Cele Goldsmith really began to hit her stride. I'm covering these two because they contain both parts of a serial, James Blish's …And All the Stars a Stage.
The June cover is by Leo Summers, illustrating Robert Bloch's "The Bald-Headed Mirage." Interiors are by Finlay and Varga. For July the cover is by Harrel Gray, not illustrating any story. Interiors are by Finlay, Varga, and Grayam.
Norman Lobsenz' June editorial is about death rays, and sterilization schemes. The book review column, The Spectroscope, by S. E. Cotts, covers Chad Oliver's Unearthly Neighbors and John Brunner's Slavers of Space, both favorably. The letter column features Mike Deckinger; B. Joseph Fekete, Jr.; Paul Shingleton, Jr.; Paul Zimmer, Scott Neilson; Bob Adolfsen, N. C., Lenny Kaye; and A. D. Scofield. The only names I recognized were Zimmer (Marion Zimmer Bradley's brother) and Kaye, whose letter is his first, wherein he calls himself "the loneliest fan in the state of New Jersey." Kaye's second letter appeared the next issue … I'll discuss him in the next paragraph. Mike Deckinger was also a pretty prominent fan, and folks who were around back them remembered Fekete and Shingleton as well.
[Click the images for bigger versions.]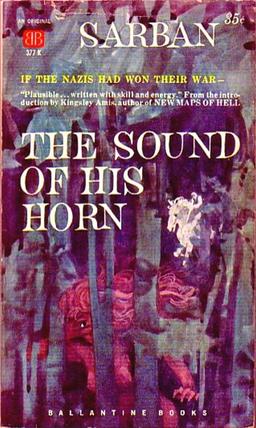 The July issue's editorial is about a couple of SF ideas then coming true: ion engines, and electronic locks. There is a science article by Arthur C. Clarke, a brief (1200 word) piece of pure space exploration boosterism, pretty slight stuff. In The Spectroscope, S. E. Cotts, briefly discusses The Haunted Stars, by Edmond Hamilton; The Sound of His Horn, by Sarban; and two Winston juveniles: Stadium Beyond the Stars, by Milton Lesser and Lost Race of Mars, by Robert Silverberg. He was impressed by the Hamilton and the Sarban, and he was quite dismissive of both juveniles.
Letters this issue came from Redd Boggs, David Greenman, H. Taylor, Lenny Kaye, Jerry Page, Alan Lacrosse, John Houston, Harold Kafader, Bobby Gene Warren, Lee L. Millen, and a note from the Scott Meredith Literary Agency chiding Amazing for incorrectly identifying Ben Bova as another penname of Milton Lesser. Of these writers, Redd Boggs was quite a well-known LA fan, and Jerry Page was somewhat known as well. Both edited fanzines. Page (under his full name Gerald W. Page) published quite a number of stories, and also edited a number of anthologies, most notably four volumes of The Year's Best Horror Stories for DAW. (He was succeeded as editor by Karl Edward Wagner.)
But the most interesting name, to me, is Lenny Kaye – he was 14 at the time, and he wrote to praise the artist Valigursky, to complain about Norman Lobsenz' editorials, and to ask to get in contact with more Edgar Rice Burroughs fans. Nothing much too different there … but Lenny Kaye was soon publishing a fanzine (Obelisk), and after graduating from Rutgers, became (mildly) famous in another field: as a rock guitarist and producer, probably best known for playing lead guitar in Patti Smith's band, but he also worked with R. E. M., Suzanne Vega and others.
The stories:
From June:
… And All the Stars a Stage (Part 1), by James Blish (26,000 words)
"The Bald-Headed Mirage", by Robert Bloch (5,200 words)
"If at First You Don't", by John Brudy (6,500 words)
"Step IV", by Rosel George Brown (4,500 words)
"Tulan", by C. C. MacApp (6,700 words)
I've discussed Blish's novel at length at my blog here. It's an odd novel, not one of Blish's best but with some interesting aspects. The basic plot concerns a young man in a matriarchal society who becomes part of a project to build starships to escape an upcoming supernova. The first part of the novel covers that project, the second part covers one starship's journey. There is a rather telegraphed twist ending. One interesting aspect is a note appending to the serial: "This novel will be published in the fall by Signet Books under the title Crab Nebula." In fact, that didn't happen, and the novel didn't appear in book form until 1971, from Doubleday, under the same title as the serial.
"The Bald-Headed Mirage," by Robert Bloch (author of Psycho, also the first person to win a Hugo for a fantasy, "That Hell-Bound Train" (1958)), is a mildly amusing piece about a couple of contrasting spacemen who come to a planet looking for something to mine. All they see is some huge rock heads in the sand – could these be a source of valuable ore? Or… could they be alive? The ending is not surprising, but… well, minor but amusing enough describes it.
"If at First You Don't" is one of only two stories John Brudy published, both in Amazing. It presents a governmental debate on what to do with an early satellite that is about to de-orbit. Some are ready to let it be destroyed, but others think it must be preserved. In a sense, this story seems to be one of the earliest to address the issue of space debris. It plays it mostly for laughs, and the silly solution arrived at is indeed kind of funny.
"Step IV" features a spaceman coming to an all-female planet. The women have a process for dealing with this, involving several steps. And Juba faithfully starts the process… but then she starts to feel that maybe this man is different… The conclusion is awfully cynical, I must say, and to my mind not effectively so.
And finally, "Tulan" is the story of the Admiral who has been leading his planet's battles against their rival planet. He is disgusted when a surrender is declared, and he determines to continue resistance at whatever cost. But the cost is very high indeed… and the story fairly effectively portrays fanaticism's failings.
On the whole, a pretty good issue, with every story having its good points, though none of the stories are particularly special.
From July:
…And All the Stars a Stage (Conclusion), by James Blish (26,000 words)
"'L' is for Lash", by William F. Temple (9,400 words)
"Noble Redman", by J. F. Bone (6,300 words)
"Penance Day in Moderan", by David R. Bunch (1,600 words)
"Membership Drive", by Murray F. Yaco (3,400 words)
"Time Enough", by Damon Knight (1,500 words)
The Blish serial I've already discussed.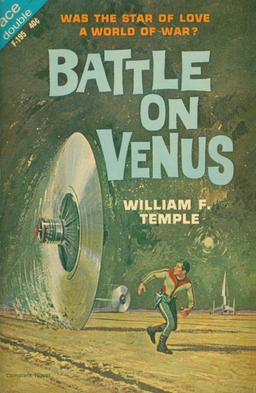 William F. Temple (1914-1989) was a British writer known primarily for three things: he was Arthur C. Clarke's roommate when both were young; he wrote the novel The Four-Sided Triangle that became a somewhat noted film; and both his children are somewhat prominent: his son Cliff was a sports journalist (who committed suicide in questionable circumstances after he investigated a prominent promoter), and his daughter Anne Patrizio is an LGBT activist. He had a fairly long career, writing a lot of short fiction and nine novels between 1935 and the early '70s, with a couple of later outliers. I've read one novel, Battle on Venus, which was silly but somewhat entertaining.
"'L' is for Lash" is a bit of an implausible mess. It's told by an ex-criminal and ex-cop who has fallen into alcoholism after he had to betray a former associate who had turned to murder. The murderer, with the unlikely name of Lash Leroux, crashed on the prison planet Venus. But now, decades later, he seems to be back, and committing crimes again. And he's after our hero, and his (also alcoholic) daughter. The supposedly mindless aborigines of Venus are also involved… leading to a very gimmicky conclusion.
J. F. Bone published (1916-2006) some 30 stories and five novels between 1957 and 1978, getting relatively little notice aside from a Hugo nomination for his 1959 Astounding story "Triggerman." "Noble Redman" is set on Mars, after Earth has become a radioactive wasteland. A Martian criminal attaches himself to a strange red miner who has entered a gambling hall, and who seems to need help after he wins a lot of money… The man claims his name is Noble Redman, and he's from Earth. It turns out that the few survivors on that planet have a special talent – and red skin, which somehow protects them from radiation – anyway, an escape follows, and a double cross, and a slight twist at the end. Minor work, mostly kind of ridiculous but with a redeeming feature or two.
David R. Bunch was one of the central writers of Goldsmith's career at Amazing/Fantastic, and his primary series of stories concerned a city called Moderan, inhabited by half men/half machine people. Bunch (1925-2000) was a Missourian, a graduate of Central Missouri State (where my son got his degree) and of Washington University in St. Louis. He also attended the Iowa Writers' Workshop. He lived in St. Louis most of his life (though I never met him). He was a controversial figure to Amazing's readers – the letter columns I've read featured plenty of screeds against him. But I find his short, very satirical, pieces continually intriguing, if at time a bit difficult. "Penance Day in Moderan," one of his earlier Moderan stories, is one of the best, I think. It is told by a vain cyborg, on Penance day, when all the citizens of Moderan march out to shed fake tears. The narrator boasts of his accomplishments, and of what he will do when next they war against each other. It's quite funny, and quite pointed. (Bunch had only two collections printed in his life, the first was Moderan, from Avon in 1971. For some reason I have a dim memory of reading that book from the library, but it was a mass market paperback, and my memory is of a Doubleday hardcover – obviously my memory is failing me, but it really is a persistent memory. Perhaps that was another timeline.)
| | |
| --- | --- |
| | |
Murray F. Yaco's "Membership Drive" was one of only six stories he published in the field, between 1959 and 1976, in Amazing, Astounding/Analog, and Orbit. It's about an alien coming to Earth and demanding help with fixing his spaceship, as part of a test to determine whether we are eligible for membership in the Galactic Federation. There's a guessable but amusing twist coming – it's a slight story, but nicely enough done, pretty funny.
And, finally, Damon Knight's "Time Enough" (incorrectly given as "Enough Time" in the TOC) is a pretty good story of a man reenacting a moment of humiliation during his boyhood, hoping to overcome, in reenactment, the fear that had paralyzed him (and, he thinks, ruined his life) back then. But, of course, he cannot escape his nature. Solid work, if to my mind not in the first rank of his stories.
---
Rich Horton's last Retro Review for us was the March 1960 issue of Amazing Science Fiction. See all of Rich's retro-reviews here.