Future Treasures: Cthulhu Lies Dreaming edited by Salomé Jones
Future Treasures: Cthulhu Lies Dreaming edited by Salomé Jones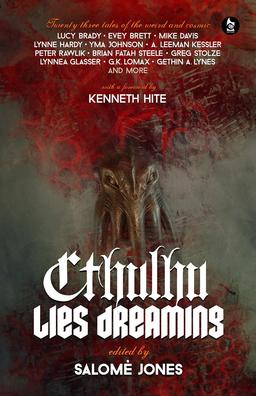 In her article for us last February, The Making of a Dark Fantasy Anthology, Salomé Jones talked about the creation of her first fantasy anthology, the Lovecraftian volume Cthulhu Lives! Her second, Cthulhu Lies Dreaming: Twenty-Three Tales of the Weird and Cosmic, is due later this month from Ghostwoods Books.
I asked Salomé about the challenges of putting together a follow-up to a successful anthology, and she gave us a peak behind the curtain at what it took to create the eye-catching cover at right.
We had a massive amount of trouble with this cover. It's like it was cursed. For the first book, Cthulhu Lives!, we used a photo of a special edition amulet by Jason McKittrick, Lovecraftian sculptor. We wanted to create something that would be recognizable to readers of that book, so we went back to Jason to look for a sculpture to photograph.

Because we needed a very high res image for print, I had the sculpture sent to a photographer in London. But through various contortions of fate, he wasn't able to get a photo of it that worked. After eight months of waiting, I ordered a new copy of the sculpture, this time sent to a photographer in California. To my great surprise, months passed and still no photo. In the meantime, I started getting cold feet about the whole idea.

Gábor, our designer, contacted me and said he'd found a possibility — a sculpture by Hollywood prosthetics designer and sculptor Lee Joyner. I very nervously contacted him. He turned out to be extremely nice and we came to an agreement. And this is the result.
Pay attention, all you aspiring cover designers. This is how patience and determination — not to mention a little risk-taking — can pay off.
Cthulhu Lies Dreaming: Twenty-three Tales of the Weird and Cosmic contains stories by A. Leeman Kessler, Lynne Hardy, Pete Rawlik, Yma Johnson, Mike Davis, Lucy Brady, Lynnea Glasser, William Couper, Thord D. Hedengren, Samuel Morningstar, Salomé Jones, Matthew J. Hockey, Matthew Chabin, Marc Reichardt, M. S. Swift, Gethin A. Lynes, Greg Stolze, G.K. Lomax, Evey Brett, E. Dane Anderson, Daniel Marc Chant, Brian Fatah Steele, Morris Kenyon, and Saul Quint.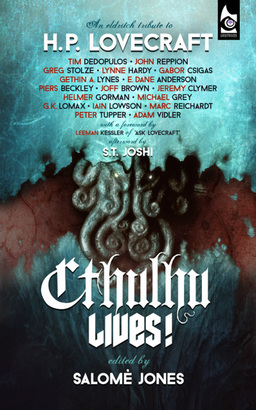 Here's the book description.
"The most merciful thing in the world, I think, is the inability of the human mind to correlate all its contents."*

The classic American horror author H. P. Lovecraft coined the term 'weird fiction' in the 1920s. Even today, in our rational world of wonder, his legacy of cosmic horror slumbers on. Deep in the recesses of our unconscious minds, we suspect it to be the truth – that we begin to glance the shape of true reality, and it is not to our liking. Not at all.

Modern science, with its experts and specialities, is a fragmentary thing. In this, it reflects the human mind. We keep our thoughts in boxes, broken into digestible shards. It is safer. Cosmic horror warns us that what we fondly imagine to be reality is just a thin skin of light and substance over endless gulfs of insanity. Gather too much knowledge, make the wrong connections, and the truth can no longer be denied.

The amazing tales lovingly collected in *Cthulhu Lies Dreaming* are fragments of that truth. Treat them with the caution that they deserve. Each will offer you glimpses behind the skin of the world, leading you closer and closer to the edge of the abyss. Knowledge may bring wisdom, but it also offers far darker gifts to the curious.

The truth is indeed out there – and it hungers.
Cthulhu Lies Dreaming will be published by Ghostwoods Books on February 25, 2015. It is priced at $16 in trade paperback; no word yet on a digital edition. The cover is by Gábor Csigás. Read more at the Ghostwoods website.
See all of our coverage of the best in upcoming fantasy fiction here.