The Making of a Dark Fantasy Anthology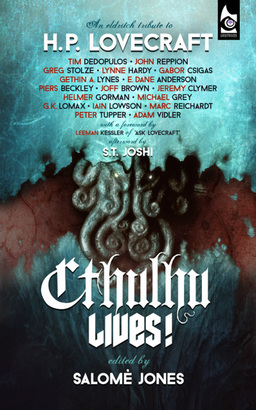 Like all books, an anthology begins with an idea. In the case of Cthulhu Lives! the idea was simply this: the eerie feel of Lovecraft's cosmic horror stories without the lengthy exposition and racist diatribes. I called for submissions using the tag line "Lovecraftian cosmic horror stories with a modern sensibility."
The cool thing about asking creative people to respond to a call is that you will often get more than you expected. For CL, I got some stories about things that Lovecraft never imagined because he was from a very different time. For example, 3D printers, spying internet programs, Higgs bosons – and steampunk Europe.
I didn't have access to a group of known cosmic horror writers. In fact, I didn't know when I put out the call if we would even get enough good stories to fill the book. At the same time I put out another call for a different book, this one for dark, modern fairy tales, and I got only three stories that I considered suitable, so I had to cancel that book.
After the open call for Cthulhu Lives!, I had thirteen good stories, stories I felt could make the grade either with or without a bit of extra work from the author. After putting them all together, I only had 55,000 words. Tim Dedopulos, the managing editor of Ghostwoods Books, told me I had to get the word count up to at least 70,000 before we could publish.
At that point, I asked writers I knew who I felt were up to the task. I have to say that Gethin Lynes was amazing here. He had been helping me copyedit the stories I already had. In order to help him grok some of the editing decisions I made, I suggested he read some Lovecraft. (He's Australian, and Lovecraft isn't as popular there as in the US.) When I needed stories, he wanted to write one. "The Highland Air" was the result, and it's one of my favorite stories in the book.