New Treasures: Kurt Vonnegut: Novels 1987-1997
New Treasures: Kurt Vonnegut: Novels 1987-1997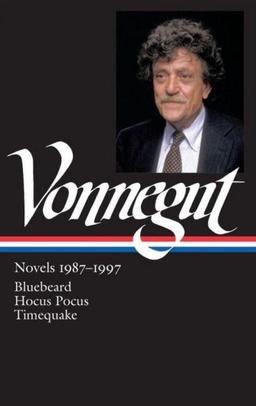 The Library of America,  a publisher with a fine reputation as a nonprofit cultural institution, has done three previous omnibus volumes of Kurt Vonnegut's fiction, collecting a dozen novels and many stories published between 1950 and 1985. The fourth and final volume, published earlier this month, gathers his last three completed novels into one archival quality hardcover.
Here are the final three novels of the visionary master who defined a generation. Bluebeard (1987) is the colorful history of a phenomenally gifted realist painter who, in the 1950s, betrayed his artistic vision for commercial success. Now, at seventy-one, he writes his memoirs and plots his revenge on the worldly forces that conspired to corrupt his talent. In Hocus Pocus (1990), a freewheeling prison memoir by a Vietnam vet and disgraced academic, Vonnegut brings his indelible voice to a range of still-burning issues — free speech, racism, environmental calamity, deindustrialization, and globalization. Timequake (1997), the author's last completed novel, is part science fiction yarn (starring perennial protagonist Kilgore Trout), part diary of the mid-1990s (starring the author himself). The result is a perfect fusion of Vonnegut's two signature genres, the satirical fantasy and the personal essay, and a literary magician's fond farewell to his readers and his craft. Rounded out with a selection of short nonfiction pieces intimately related to these three works, this volume presents the final word from the artist who the San Francisco Chronicle, reviewing Timequake, called an "old warrior who will not accept the dehumanizing of politics, the blunting of conscience, and the glibness of the late-twentieth-century Western world."
Kurt Vonnegut: Novels 1987-1997 was published by Library of America on January 19, 2016. It is 754 pages, priced at $35 in hardcover. There is no digital edition. Our previous coverage of Library of America includes:
The Library of America Publishes Elmore Leonard
A Princess of Mars and Tarzan of the Apes by Edgar Rice Burroughs
American Science Fiction: Nine Classic Novels of the 1950s, edited by Gary K. Wolfe
American Fantastic Tales: Terror and the Uncanny, edited by Peter Straub
See all of our recent New Treasures here.