Happy Thanksgiving! Celebrate with an Uncanny Story
Happy Thanksgiving! Celebrate with an Uncanny Story
It's Thanksgiving here in the United States.  One of the better holidays ever invented, even if you're a displaced Canadian like me.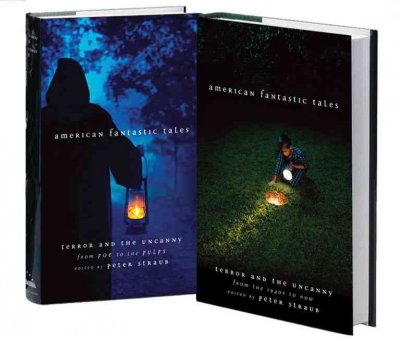 In addition to eating, putting the finishing touches on BG 14, eating, writing my editorial, and eating, I'll be stealing a few hours for leisure reading. Thanksgiving weekend usually involves at least a little travel (this year we're celebrating in Madison, Wisconsin, three hours from our home in St. Charles, IL), so anything too long is out.  I need something I can finish in short bursts, in between sequential naps in a big green recliner.
Fortunately, a perfectly apropos choice landed on my doorstep last month, compliments of the Library of America. Peter Straub's two-volume American Fantastic Tales, subtitled Terror and the Uncanny, is one of those genre-defining collections, a banquet of spooky fall reading that will likely last me months. And just like Thanksgiving, it's unapologetically American in focus.
As we've already established, I'm a sucker for big retrospective collections.  This one reminds me of a favorite from my childhood, Anthony Boucher's seminal two-volume A Treasury of Great Science Fiction. Gathering numerous tales of vintage SF and even a few complete novels (including Alfred Bester's The Stars Our Destination and A.E. Van Vogt's The Weapons Shops of Isher), it captivated me for weeks in the summer of 1977, most of which I spent reading in the trailer in our back yard. 
Straub doesn't include any novels among his selections.  But like Boucher's classic, American Fantastic Tales is huge — nearly 1,5oo pages of fiction, carefully selected to showcase the best horror tales in American history, from Edgar Allan Poe and Nathaniel Hawthorne to Joe Hill, Kelly Link, and Michael Chabon.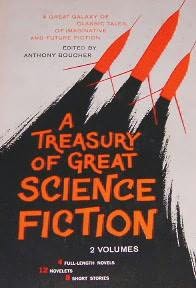 Volume One, From Poe to the Pulps, features Herman Melville, Robert W. Chambers, Edith Wharton, Robert E. Howard, H. P. Lovecraft, Clark Ashton Smith, Robert Bloch and many others.  Volume Two, From the 1940s to Now, includes John Cheever, Charles Beaumont, Vladimir Nabokov, Harlan Ellison, Richard Matheson, John Crowley, Stephen King, Steven Millhauser, and over a dozen more.
While I sometimes wished for a few more editorial notes on the selections, overall I'm very impressed.   I'm sure this collection (also available in a handsome boxed set from Amazon) will be on more than a few Christmas wish lists.
I hope you find suitable treasures of your own to snuggle down with this weekend. Happy Thanksgiving, Black Gate readers.