New Treasures: Penguin Science Fiction Postcards: 100 Book Covers in One Box
New Treasures: Penguin Science Fiction Postcards: 100 Book Covers in One Box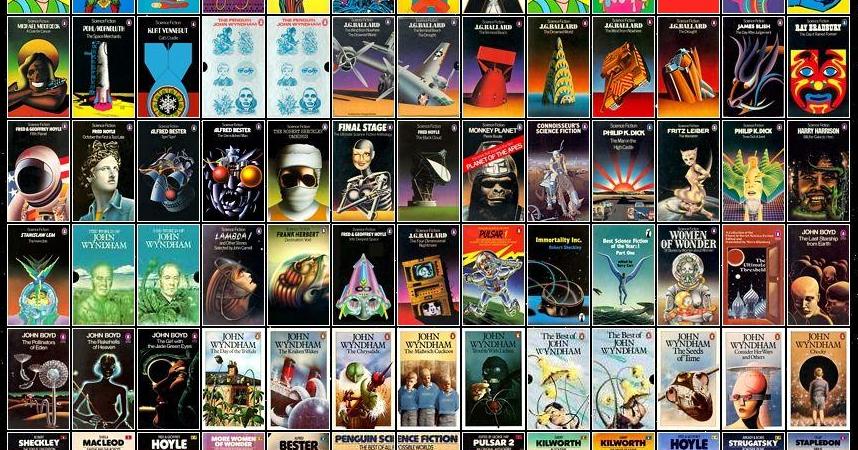 We've already established that I'm a sucker for a cool cover. I don't have time to read a fraction of the books I buy, but I can look at great cover art all day long. Put an eye-catching cover on your book, and you've got my immediate attention.
Put a hundred cool covers on your book, and you can just shut up and take my money.
I think that's the overall idea behind Penguin Science Fiction Postcards: 100 Book Covers in One Box. It's sort of like a science fiction book with a great cover, but minus the book. And with 99 other covers. And with the added bonus that you'll never lack for postcards again, when you need to drop a note to your uncle to remind him to return your copy of The Stars Like Dust. And did I mention the cool box?
Penguin has published a lot of science fiction over the decades. Like, a lot. Waaaay more than a hundred titles. How many exactly? I don't know, but I bet I know somebody who does. James Pardey at the amazing penguinsciencefiction.org site.
James and his team have indexed every single Penguin science fiction paperback, starting with Samuel Butler's Erewhon, published under the Penguin imprint in October 1935, to Consider Her Ways and Others by John Wyndham, which appeared last year. They've indexed each in chronological order with a clickable thumbnail image, allowing you to spend as many hours as you want gawking and browsing the fabulous Penguin catalog.
Above is a six-year span of that catalog, starting with Michael Moorcock's A Cure for Cancer (December 1973, cover by David Pelham) to the 1979 reprint of Chocky by John Wyndham, with a cover by Peter Lord.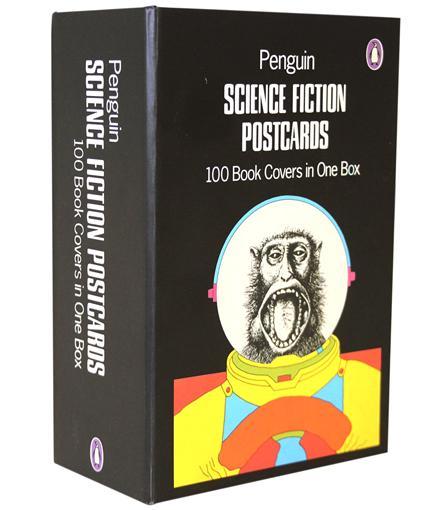 Obviously, you don't get every one of these book covers in Penguin Science Fiction Postcards. But you do get a generous sample, all printed on sturdy, glossy card stock. Here's the description:
A collection of 100 postcards featuring iconic, bizarre, and mind-blowing science fiction book covers

Exploring the weird, wonderful world of science fiction cover art, this set of one hundred postcards includes classic images from some of the of the heavyweights of the genre — H. G. Wells, Aldous Huxley, J. G. Ballard, Philip K. Dick, Kurt Vonnegut, Ray Bradbury — as well as celebrating images from delightfully pulpy cult classics. Inspired by surrealism and pop art, and charting science fiction's emergence as a literary force, the postcards in this collection will appeal to legions of sci-fi devotees and design fans alike.
Penguin changed art styles several times over the years, starting with rather bland text-based covers, shifting to colorful pop art in the sixties, and gradually developing an iconic style. In the seventies and eighties, their sytle changed again, becoming less design-focused and more art-focused. Have a look (covers again from penguinsciencefiction.org).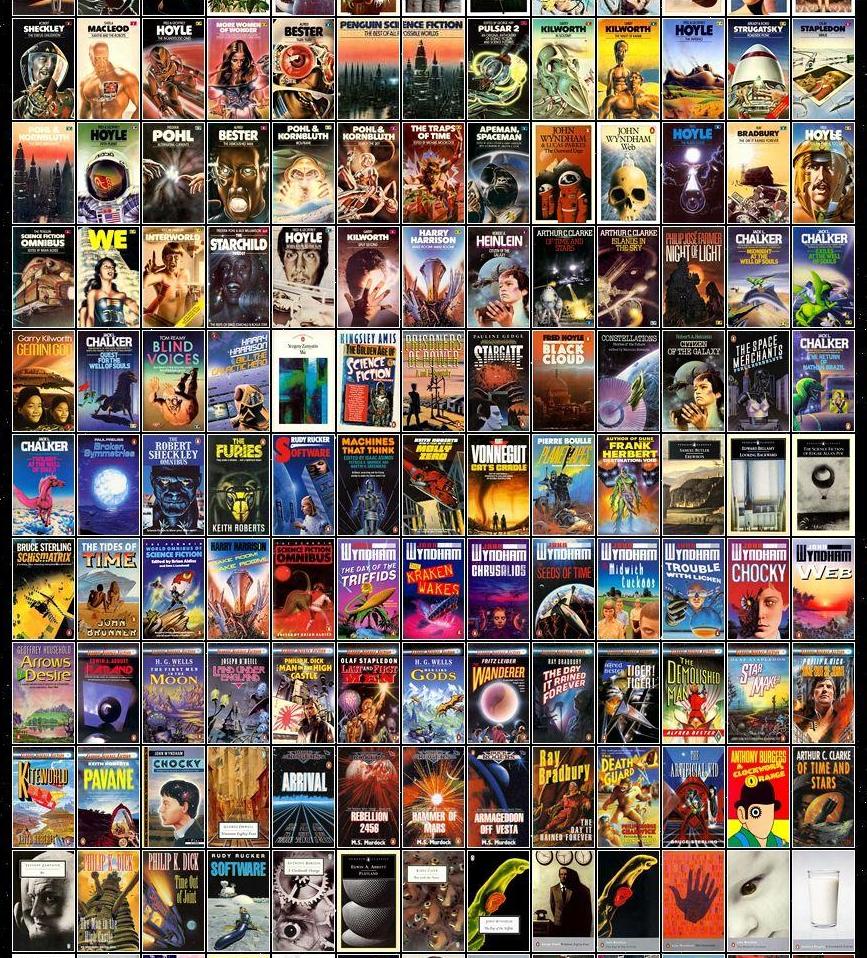 Penguin Science Fiction Postcards: 100 Book Covers in One Box was published by Penguin Books on September 29, 2015. It is, well, 100 pages (200 counting both sides), and comes in a nifty box. It is priced at $25, and you know what? There is no digital version.
See all our recent New Treasures here.